Legal Practice Technologies (LPT) Limited is a joint venture between Mastek and The Law Society (TLS), an independent professional body representing solicitors in England and Wales. Through Mastek, LPT will deliver IT solutions for TLS' services.
The Situation
As part of the joint venture, Mastek is responsible for delivering Veyo, the flagship conveyancing portal. Veyo will serve as a platform for connecting TLS to its members and to the general public. Designed as a hub for residential conveyancers in the UK, Veyo is aimed at increasing conveyancing efficiency and security, whilst reinforcing TLS' position as a market leader and maximising its market capitalisation. Veyo will provide a single source for all processes, checks and documentation prepared by solicitors and licensed conveyancers in the sale and purchase of residential properties.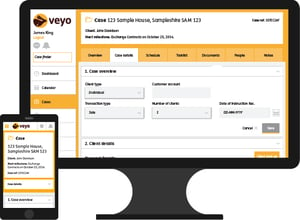 Need for Flexibility and Scalability
The residential conveyancing market is quite unpredictable and involves various stakeholders including:
Diverse Segments
Depending on the volume of conveyancing transactions each month, various entities could interact on the portal including:
Small, medium and large real estate firms
Different business structures including recognised bodies, recognised sole practitioners and licensed bodies
It was necessary to ensure that the business needs of these audiences was appropriately evaluated and addressed. Hence, the portal had to offer a fair amount of flexibility and scalability.
Unpredictability of Conveyancing Transactions
Each case is different and can take an unpredictable course depending on numerous factors such as client instructions and representation, property and title status and lender requirements. Catering to all such scenarios meant that we had to make provisions for structured and unstructured activities.
Competition from Existing Case Management Solutions
Addressing the requirement of firms that deploy their own case management systems in-house or commercial, off the shelf solutions
Need to provide a strong differentiator for the case management solution in the UK market
Moreover, as the business case was developed during the foundation phase of the portal development, the product vision and requirements kept changing and evolving constantly.
Soliciting a SaaS Solution
Mastek is developing Veyo, the residential conveyancing portal as a scalable, cloud application with a multi-tenant architecture. It offers stakeholders a common platform for interaction, as well as confidentiality owing to the granularity delivered at the SaaS level alongside the multi-tenant environment.
Says Michael Singleton, solicitor, "Veyo is created with inputs from legal professionals. It is based on a secure technology and will serve as a trusted platform for interaction between the legal fraternity and the public."
Additionally, Veyo offers standard SaaS solution benefits including reduced TCO and lower costs involved with paper filing and archiving.
Agile Delivery Approach
Mastek's delivery approach is aligned to the Government's Service Design Manual. The approach is user-focused and required a multidisciplinary team to deliver digital services for the government [www.gov.uk/service-manual].

Further, Mastek scrum teams collaborating with TLS product owners to implement the Veyo portal using the Agile delivery approach.
They documented functional and non-functional requirements for the set of functionalities in the form of product backlog items and user stories. The user stories are detailed to help the development team and include business rules, field validations and error messages. All of which effectively feed inputs into the design of the services.
Case Management with Multi-Channel Access
Mastek provided a flexible, case management solution with numerous features. This included task management capabilities and configurable business process workflows that offer several benefits including:
Streamlined Business Processes
Circumvents issues involved in addressing different market segments with varied corporate, team and workflow structures
Key stakeholders collaborate on the same portal, which reduces time spent on collaboration and follow ups
Capability to deliver ad hoc tasks in response to unpredictable conveyancing transactions
Secure Collaboration and Integration
Protected deal room for online negotiations, sharing and reviewing documents in real-time
Confidential client view area for tracking case status which minimises follow ups
Integration capability with other case management systems, land registry business gateway and ID/AML check providers
Better Risk Management
Clear communications audit trail and transparency between transacting parties
Assurance regarding the reliability other parties involved and creation of a safe community
Online provisions that quickly address due diligence obligations