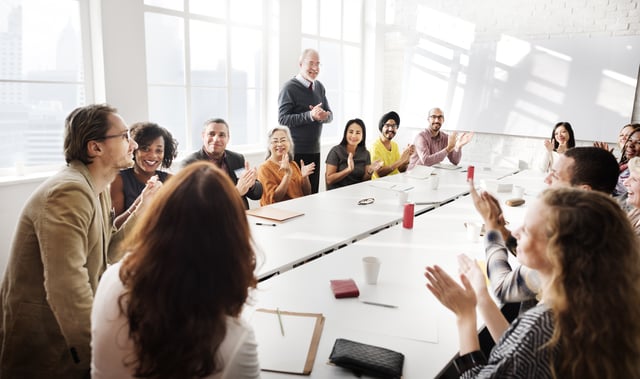 Most digital teams look to their Scrum Master or Project Manager when there is a problem or when a decision needs to be made. But to ensure that teams become self-managing and find their own momentum, digital leaders need techniques to help advance behaviour.
Here are some ideas used by our digital scrum teams working on NHS projects around the UK:
At the daily 'stand-up' each team member moves to the board to give their own brief update. "Good morning everyone. I have been working on this item which involves…" They point at the task and explain it very briefly
Then they use the team pen to add their expected end date, or, if things have moved or need to be reprioritised, they neatly cross it out and update it. This focusses the team on committing to completing their work and ensures that everyone knows that starting is less important than finishing
When items reach the 'done' column you can see how many dates were altered and how many completed more smoothly. This drives simple but valuable improvement metrics for their retrospectives (regular improvement sessions) and helps them to understand how much of their work is getting delayed or reprioritised mid-sprint
Once their brief update is done, they hand the team pen to the next person who does the same. This clear handover frames each update neatly and results in everyone giving a similar performance in terms of both quantity and quality.
Handing the pen over reminds everyone that they are expected to add, amend or confirm the expected delivery date on their current work item using that pen. Ensuring that everyone speaks from the front (near the item they are describing) means that the team look less to their team leader and more to themselves and each other when inevitable issues need attention.
Teams need help to maintain focus on completing stories (single requirements representing value) over tasks (activities that represent cost). Stories are shown on the wall using a card held by a magnet or sticky tack. The tasks associated with delivering this story are on smaller sticky notes which gradually move across the wall each day.
Only when all of the tasks (stickers) within a story are complete can the story card be moved into 'done'. By having physically different tasks and stories we find teams more likely to remember to focus on completing story cards (delivering business value) over randomly doing tasks (which usually represent effort and cost). They honk a horn to celebrate. This reminds them to complete valuable stories instead of selecting the interesting or easy tasks.
What is your experience with building self-managed Agile teams? Share your feedback with us in the comments section.