An early Easter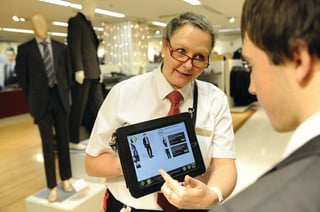 a shorter than usual period between the Christmas trading rush and the traditional start of spring here in the northern hemisphere. And, once again we've been monitoring the latest trends in Retail technology and highlighting what has gained the most momentum over the past month. So, here goes:
Meeting Connected Customer Expectations
The opinion of the Connected Shopper, also known as Generation C has never been starker and in such great demand. A survey titled 'Beyond Digital, What's next for businesses in 2020?' conducted by Infomentum reported the plain truth behind a tech-savvy generation's expectations and needs from digital Retail in the next few years.
77% of respondents said that if they struggled to access a website, they would leave immediately, while 89% would discuss negative experiences on social media, and 89% would write a negative review online. 55% said they wouldn't bother to ask customer services for help. Despite this, 96% said they would share positive experiences. When asked what the most important web features were for today's shoppers, 76% chose clear navigation, 60% speed/website load times and 51% effective search functions.
The statistics speak volumes about the habits of today's connected shoppers. It highlights their tolerance or lack of it for retailers who are not already responding to the digital challenge. At Mastek, we assist the clients need to expedite this important trend. Make sure you don't get left behind.
Mobile Optimisation
We reported last month, and indeed, the month before that, that Omnichannel fulfilment was now considered mainstream and no longer a differentiator. What has become apparent in March is the shift in strategic focus and with it, IT investment in upcoming technologies which can help retailers to continue their push for improved customer insight.
A survey carried out by SLI Systems into forthcoming UK retailer IT plans and the results show a marked shift in emphasis. 35% of UK-based online retiailers list customer experience as their highest priority in 2016, with mobile optimisation coming in a strong second at 26%. Mobile optimisation is a key trend we are seeing at Mastek for some time, with Retail customers seeking ways to combine customer experience (CX) with a more deliberate mobile shopping capability (phones and tablets).
With the obvious reality dictated by March's first trend above, the need for a holistic digital strategy to meet the needs of Generation C is paramount.
Online Profitability Conundrum
Whilst huge efforts are being made to fulfil online e-Commerce customer-facing retail sales functions, it is the 'last mile' of supply chain fulfilment capability, which is now being thrown into sharp relief. We've seen several reports and surveys appear this month that highlight the dichotomy faced by retailers, as the cost of fulfilling online orders appears set to negatively impact profitability over the next ten years.
OC&C Strategy Consultants reports that over the past decade online purchases excluding food fulfilled through delivery and click-and-collect have doubled in value and they are predicted to double yet again over the next 10 years, whilst at the same time the overall retail market will grow by a relatively modest 2.2%, from £189bn in 2015 to £230bn in 2025. The increase in delivery and click-and-collect, it says, will come primarily at the expense of in-store sales. This growth has happened quickly - in 2005, only 9% of retail sales (£15bn) were fulfilled through home delivery and less than 1% by click-and-collect. The remaining 91% (£152bn) of sales were made in store. Last year, 19% (£35.9bn) of sales were made through delivery, 3% (£5.6bn) were made though click-and-collect, and 78% (£147.4bn) in store. By 2025, home delivery is expected to be responsible for 30% (£69bn) of sales and click-and-collect for 10% (£23bn), whilst in-store purchases will fall to 60% (£138bn).
How does a retailer with online presence balance the demands of this shifting landscape with remaining profitable? There's certainly no easy answer but it does highlight the imperative for considering operational supply chain issues at the same time as e-Commerce functionality. You simply can't have one without the other.
For more on how you can embrace these trends…
Get in touch with me at pierson.broome@mastek.com At Mastek, we're enabling Retailers to address challenges and capitalise on opportunities, not just from a technical viewpoint, but more importantly, from a business perspective. Our dedicated Retail team focus on improved corporate financial performance and growth.