Under political and public pressure, government services providers are under intense scrutiny to provide value and right first time delivery. To reduce public expenditure, public bodies including the NHS, Ministry of Justice and DWP were challenged to transform their technology to modernise services and deliver improved value for money. To achieve this, Government departments procured large scale IT vendors' services that offered economies of scale and simplified delivery.

A global systems integrator accountable for delivering 7 national UK public sector IT modernisation programmes chose Mastek as their end to end testing delivery partner. They required a partner with a strong testing capability, adaptable capacity and attractive pricing model, together with a trusted history of consistent supply to deliver 7 key UK programmes.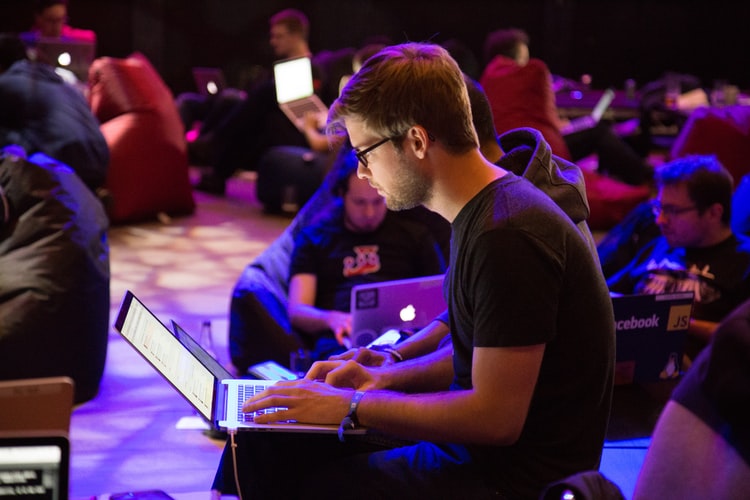 At this scale the partnership faced huge technical and human challenges.
On boarding a team of over 70 test professionals within a 4 week window to maintain continuity of delivery
Working as one team across multiple locations including London, Birmingham and Newcastle
Providing a wide range of testing services including Test Automation, Compatibility Testing and Recovery Testing
Reducing the legacy maintenance cost of Test Automation
Testing complex system solutions including integration of 20 different sub-systems and over 100 major releases (Plus 1,400 minor releases)
Getting up to speed, Fast
Mastek delivered specialist testing services on a fixed-price managed-service basis, with all testing and its resourcing under Mastek's control. While Mastek has transitioned its own staff to replace those of incumbent suppliers within multiple programmes, Mastek also took over the contracts of third-party contractors working on the testing programme. Over 70 resources were transitioned into the programme in a 4 week window.
A proven transition process
Mastek delivered three different levels of Transition to successfully transition each of the 7 programmes. Each level of transition was treated as a milestone and on successful achievement of the previous that milestone the next level of transition was to be started.


Level 1: Individual Transition Achievement Milestone
Individuals working under different testing teams were incumbent employees and contractors from multiple suppliers including Mastek. The ndividual Transition involved replacing Non-Mastek / contractors with Mastek testing specialists.
80 resources were identified as part of Individual Transition under the different programmes.
Mastek followed a well-defined knowledge transition methodology and for each phase of the transition, both Mastek and our Partner resources shared and identified responsibilities to ensure gradual transitioning with minimal impact on the testing services of respective Domains.
The key activities in each of the phases in highlighted below: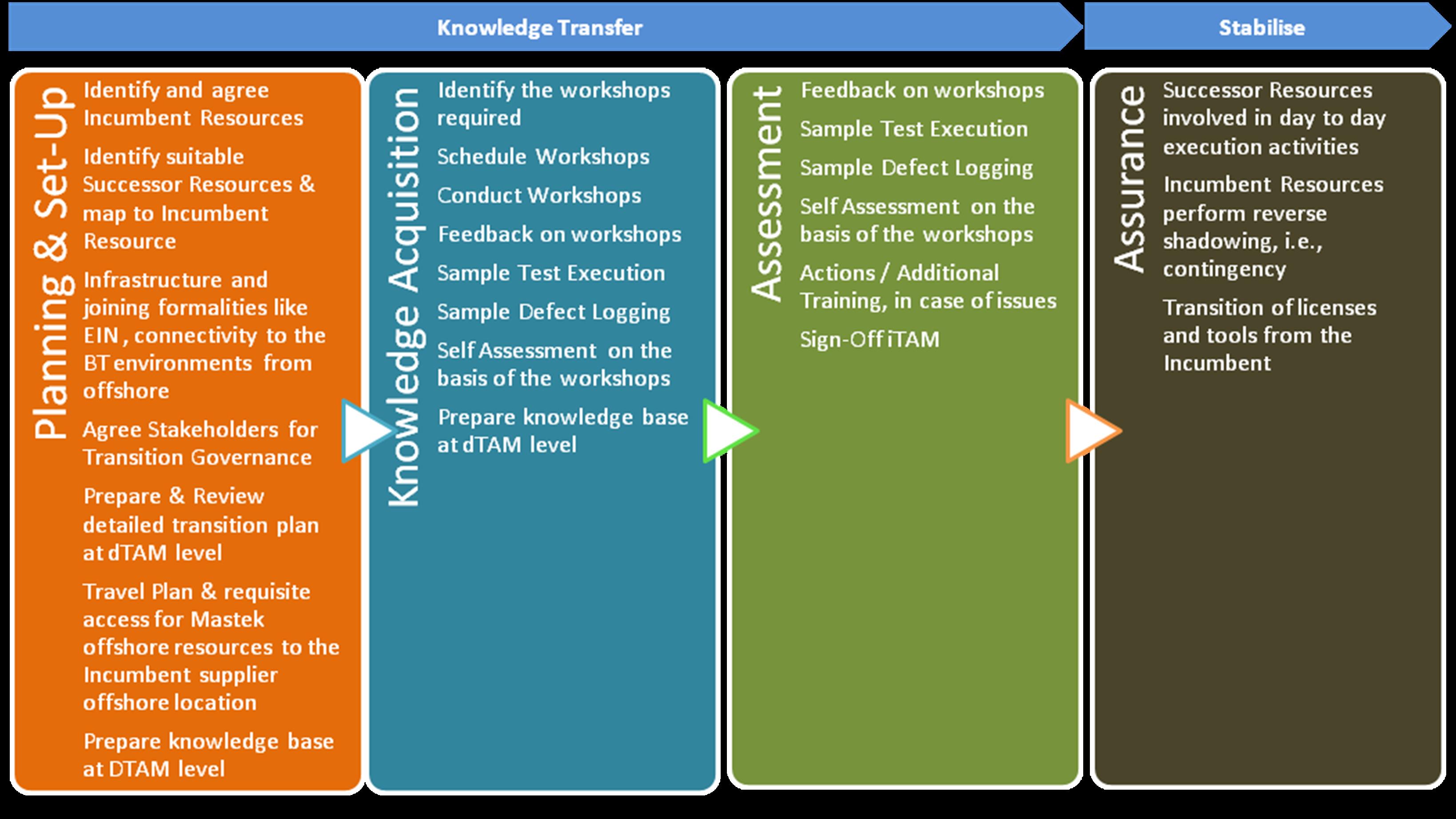 1. Planning & Set-up
Mastek identified and agreed incumbent resources and successor resources. This was followed by a mapping of incumbent resources to successor resources.
Mastek delivered a resource plan to our partners together with an associated requirement for facilities and logistics.
2. Knowledge Acquisition
The Domains identified for transition have undergone testing during many releases in the past consequently the Incumbent Resources have acquired considerable knowledge of the applications in the respective Domains. During transition Mastek acquired knowledge from the Incumbent Resource on the basis of the documents of the existing releases.
3. Assessment
The Assessment of each Individual Transition took place after the completion of the Knowledge Acquisition phase. Partner and Mastek Domain leads jointly completed this assessment based on category wise acceptance criteria which had been pre-defined.
Where gaps are identified during the assessment, a training plan was recommended by Mastek. Both Mastek and our Partners agreed on an action plan to close out the gaps identified and ensure successful acceptance of the Successor Resource.
On completion of Assessment the partner domain lead provided the interim sign-off of the respective Individual Milestones.
4. Assurance Phase
The Assurance phase commences after completion of Assessment phase. In this phase the Successor Resource starts working on day to day activities, while the Incumbent Resources are retained as contingency/back-up. After completion of Assurance phase the incumbent resource moves out and the Successor resource continues work business as usual.
Level 2: Domain Transition Achievement Milestone
A Domain can consist of multiple subsystems which encompass the functionality of the domain. This milestone is achieved when all Individual Milestones within the Domain Milestone are successfully completed.
Level 3: Programme Transition Achievement Milestone
This milestone indicates the complete transition of Integration and system testing of a Programme. This is achieved when all Domain Milestones of the respective Programme Milestones are successfully completed.
This easily repeatable approach provided our partner with the assurance of both the quality and timeliness of transition.
As a result of this transition our partner quickly had a simplified and cost effective testing services solution on which they could depend to assure quality.
Whilst Also Reducing Costs, Fast
As a strategic delivery partner, Mastek were able to deliver economies of scale and supplementary benefits. Our Partner's legacy automation solutions were based on capture / replay tools that were:
High Cost: Script maintenance required a high amount of expensive manual effort.
Broken easily: Hard coded values led to lots of false negative test results, unnecessarily breaking automated delivery pipelines and slowing down delivery
Mastek replaced the legacy testing solution during script maintenance in minimise the impact on Programme Delivery. They implemented their proven open source automation framework and builds tool to provide Test Script Modularity, Test Library Architecture, Data-Driven Testing and Keyword-Driven or Table-Driven Testing.
This meant that automation test scripts became much more robust, flexible and could be easily maintained. As a result Mastek were able to deliver:
70% automation coverage
A reduction in time to market through accelerated release cycles
40% fewer defect leaking from System Test into User Testing
Value Delivered, Fast
Mastek are an experienced digital transformation partner. For a global systems integrator accountable for delivering 7 national UK public sector IT modernisation Mastek maintained continuity of delivery while providing assured outcomes and quality. Partnering with Mastek delivered:
Over £10bn of benefit delivered for end users
Significant cost-savings from the first year of full operation
Key high-value staff retained to reduce exposure to risk and cost;
Identified improvements and synergies in processes during transition to be institutionalised into common and best practices across our Partner's wider programmes
Demonstrable quality outcomes supported by working software and a reusable test assets that includes 25,000 cases and 70% test automation coverage.
Find out More, Now
If you recognise these challenges in your own organisation you need to speak to Mastek.
To discuss this solution or any of Mastek's award winning Testing Services, you can contract Andrew now via email on Andrew.Palmer@Mastek.com or by calling 07818411530