If a picture paints a thousand words, then a great visualisation paints a thousand numbers.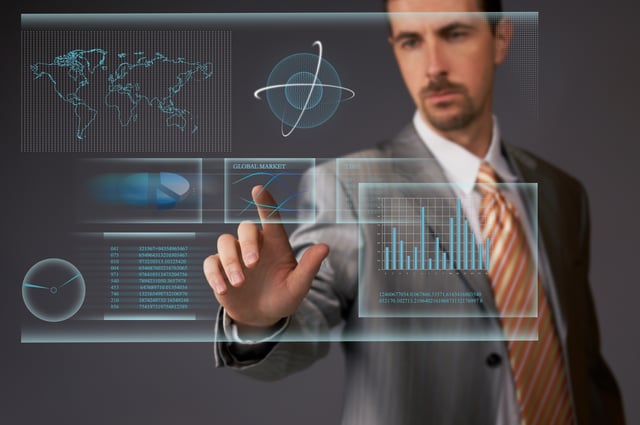 One of my recent customers, a financial services product company that relies heavily on direct marketing, wanted to revamp their BI from a clunky 5-10 year-old solution. Their Customer Insight team had created a very coherent set of KPI's, but alas the data was presented as a series of huge tables, some 62 columns wide. You may as well have given the Directors a system dump on the old green-and-white continuous paper – and they were expected to run the business off this.
Step one of their planned revamp was to 'replicate our current reports in the new toolset' – always a recipe for disaster as the start-point on a BI project, but often seen as necessary in order to validate the new reports. There was also a view that 'we like tables, the business likes the data.'
On closer examination, it became apparent that what the business actually did was pick out just five key items that told them most of what they needed to know.
So, alongside abusing a leading data visualisation tool and grudgingly producing a spruced-up, more navigable version of the old tables, I also did a quick show-and-tell of 'what if you did THIS with your data.' First, the five key measures on time-based charts, followed by a simple statistical forecast of the likely trend over the coming weeks. Then we started the 'wow' stuff like showing a heatmap to correlate sales volumes with profitability – all only a couple of clicks away – and the pennies started dropping about why this modern, visual, interactive approach to BI provides richer insight and value.
If your BI is a few years old and looking a bit tired, or not delivering the intended value, my advice is:
Revisit your outputs and see how the business is really using them
If there is an industry of cutting and pasting into Excel, then your BI probably isn't aligned to current business needs
Look at rationalising your reports, you will doubtless have far too many
Consider a trial of one of the really visual BI tools
Never, ever 'just replicate what you already have!
If you are interested in finding out how Mastek can help you with a 'BI Makeover' to modernise your reports and dashboards, check out this FREE