With the cloud transformation wave taking businesses by storm, it is essential to have special infrastructure tools and architecture to leverage automation and built-in security for superior migration and economics. However, for many businesses, the foundations of their on-premises IT systems were built years ago, and people who set up these systems might have already left the organization.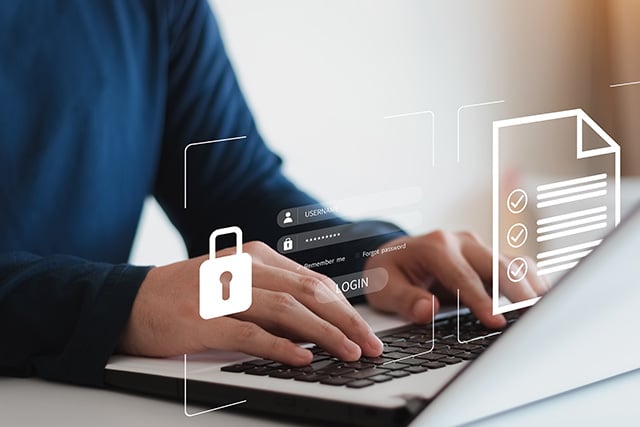 So, the burning question is how to you curb fraud and enhance data/application security.
The answer to this question is Oracle Identity and Access Management (IAM).

What Is Oracle Identity and Access Management (IAM)?
Oracle Identity and Access Management solutions secure access to enterprise applications for both cloud and on-premises deployments. The foundation of identity governance revolves around three important questions:
Who currently has access to the data/applications?
Who should have access?
How is the access being used?
Features of
Oracle Identity and Access Management (IAM)
Policy enforcement


If employees have access to two opposite rules (e.g., paying and creating invoices) they can easily fraud the company by creating an invoice and paying themselves.

If any such condition is met in Oracle IAM, it triggers a violation, so administrators can quickly remove such accesses. The system also prompts a warning signal whenever a user requests special access.

Cost-Effective Unified Approach

Oracle identity management offers a cost-effective unified approach to control end-to-end user lifecycle management.

For example, organizations use several applications and have multiple users. With these users getting transferred or changing their designations, it requires administrators to manage their access. Oracle identity management offers a centralized viewer system to manage changing roles and accesses.

Meeting regulatory and compliance requirements

Complete privacy compliance like GDPR, OECD, CPA, and PCI DSS (for Mac) can be a lot to handle if companies don't control user access to prevent unwanted breaches.

Oracle IAM provides an excellent framework to manage access. It also provides features including segregation of duties, controlling the entitlements of the user managing the passwords, limiting the access, and enforcing legitimate accesses.

User account administration processes

Oracle Identity and Access Management (IAM) allows companies to set up automation systems and monitor and flag any inconsistencies.

Identity Governance offers an effective way of integration and provides connectors to build upon. It acts as a middleware to connect to multiple systems or applications in the organization.

Let's take HCM Cloud application for example. When a recruit joins the organization and the administrator enters the details in the HCM portal, Oracle IAM will detect this new entry and reconcile or aggregate it. Depending on the organization's defined access control matrix, it can automatically provide access to all the accounts to the new user.

Password management

Identity governance gives you access and a robust password management framework. Lack of password synchronization leads to chaos and hundreds of password reset requests for the administrator, resulting in overloading. By implementing Oracle Identity and Access Management (IAM), you can synchronize and manage the password to comply with your organization's password policy.

Group and role management

All the groups, rules, or entitlements can be managed via the Oracle IAM platform where users can go and request for entitlement and the administrator can view that access and revoke it if needed.

Access request

Oracle Identity and Access Management gives users an eCommerce-like experience, offering a 360-degree view of entitlements for all the connected applications. With this, users have permission to request or remove accesses on their own by simply viewing all the current accesses.

This process can also be linked with the organization's existing approval workflow policy, so administrators can either have a single (involving only the manager) or multi-approval levels.

Access certification

Supervisors and applications or data owners can review their subordinates' access and act on it. So, Oracle Identity and Access Management enables revoking or granting access, so organizations can have a top-down and bottom-up approach.

Risk assessment

Companies can mark critical applications with sensitive data as risk applications, so the administrator can closely monitor user access.

Analytics and reporting

Oracle Identity and Access Management platform provides a 360-degree view of the user entitlement. The reports contain all historical data of when the user got locked out and requested access. Administrators can simply add-on queries and plug into the system to get these reports.
Critical Factors to Make Your Identity and Access Management a Success
Access control matrix
With well-defined and on-demand access, it is easy to define the policies around it and control user access. Your implementation partner should be able to identify what the critical access is and mark it as a higher risk.
Approval workflows
These accesses are highly sensitive for core banking or any public sector critical application, so it is important to have multiple levels of approval workflows and define the hierarchy.
Temporary transfer
This feature is mainly related to the banking sector. For instance, a teller in a different branch will need new access depending on the location. So, focusing more on transfer scenarios is essential because it leads to access aggregation.
Temporary disablement in the case of user's critical applications
If a user is suspended, their access should be revoked immediately. Oracle Identity and Access Management (IAM) can easily detect such instances and temporarily disable critical application access to deter fraud.
Business data/application owners' identification
Before starting the integration with any other application, ensure that your implementation partner identifies the business owner and gives full authority access right to them.
Departments should clearly be mapped with HRMS attribute and active directory groups
Since HRMS will be the authoritative source for businesses, it is important to map all the attributes on the HRMS level with clearly defined metrics. This way you get an overview of how these attributes are mapped to the end-user applications.
How Mastek Adds Value as Your Oracle Identity and Access Management Implementation Partner
Application readiness
A pre-checklist for application readiness ensures a smooth round of integration.
So once Oracle Identity and Access Management is enabled, the system will anticipate the role and allow the user to access apps efficiently. The system can also trigger accurate automated provisioning and manage employees, contractors, and partners.
How

Mastek

Adds Value

as

Your

Oracle Identity

and Access

Management

Implementation Partner
Mastek works around defined milestones where we start off with the initiation and our project kickoff. We have an integrated project plan with weekly status reports and infrastructure design. We enable security management from the very start of the initiation.

Experience in delivering IAM in banking and public sector domain

We have implementation experience for Oracle Identity and Access Management in banking as well as the public sector domain. With a deep understanding of what exactly are your pain areas, our team knows how to drive your project effectively.

Consultative approach

Mastek follows a consultative approach where we dig into the pain areas and grasp your exact requirements at the very start. We always design the solution keeping the security aspects in mind.

Strong knowledge of Oracle Applications Suite

We have a strong knowledge about Oracle Identity and Access Management products and many more Oracle cloud applications. Our profound understanding of end-user applications helps us identify predefined prerequisites for a smoother integration.
Secure and Manage Access to Your Enterprise Workloads with Us Today!