Nowadays, no business wants to employ people for unintelligent tasks like simply entering data, validating data, or doing certain activities that Robotic Process Automation (RPA)-enabled bots can easily do. Visionary organizations tend to automate as many tasks as possible and utilize their workforce in a more valuable or more effective manner.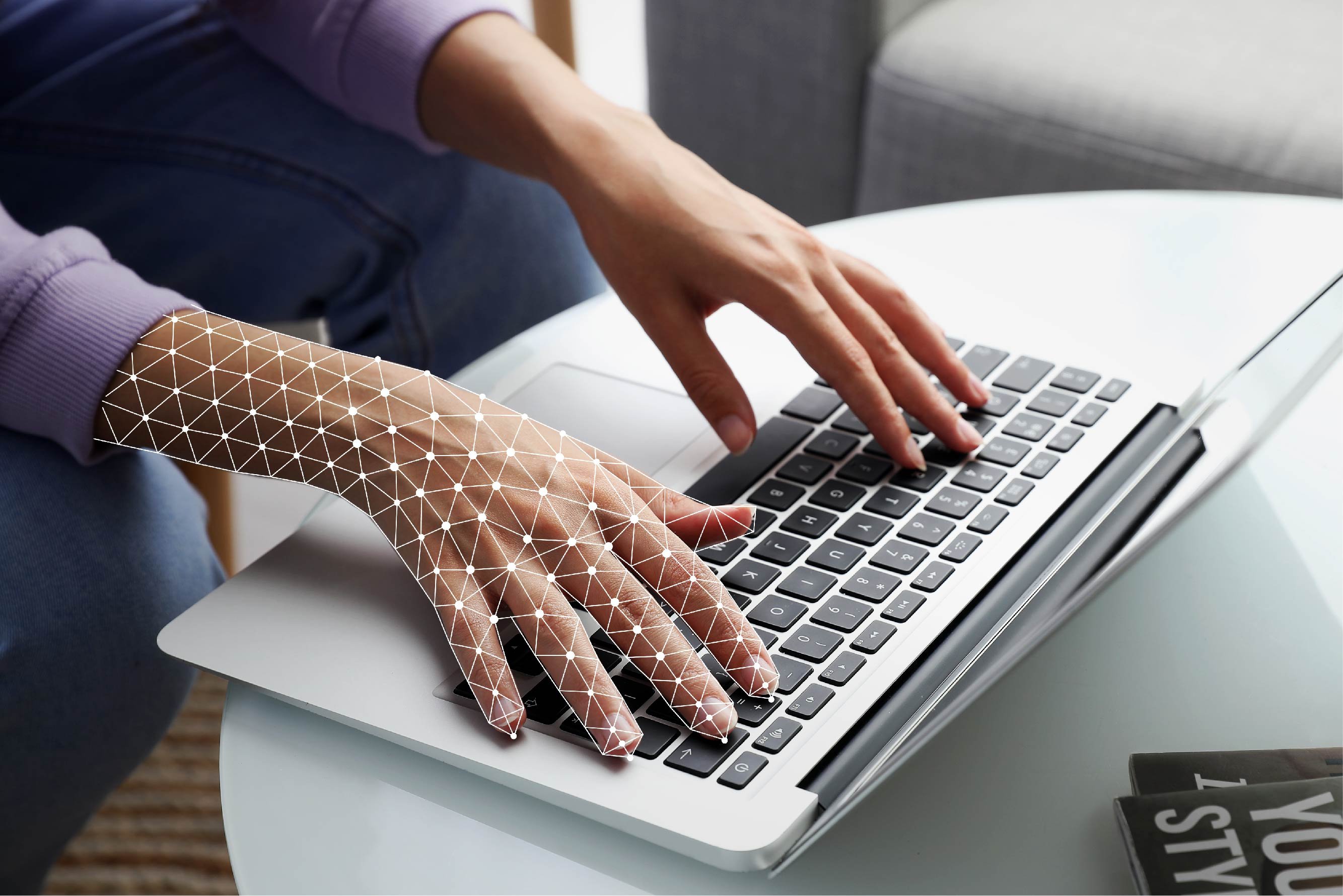 RPA in Finance, HR, supply chain, etc. helps businesses improve their efficiency in delivering services as well as perform better by forecasting different types of KPIs, whether it is customer-related, or whether it is finance-related or operation-related forecasts.
Let us try to understand them in detail.
What is Robotic Process Automation (RPA)?
Robotic Process Automation is a software suite that reduces the requisite employee time and effort to perform stable and rule-based business processes. In simple terms, RPA utilizes a user interface to capture data and accordingly manipulate existing applications, just like humans. Organizations may employ bots that analyze and understand the logic behind repetitive tasks, and then perform them efficiently.
How Do We Identify Potential Activities for RPA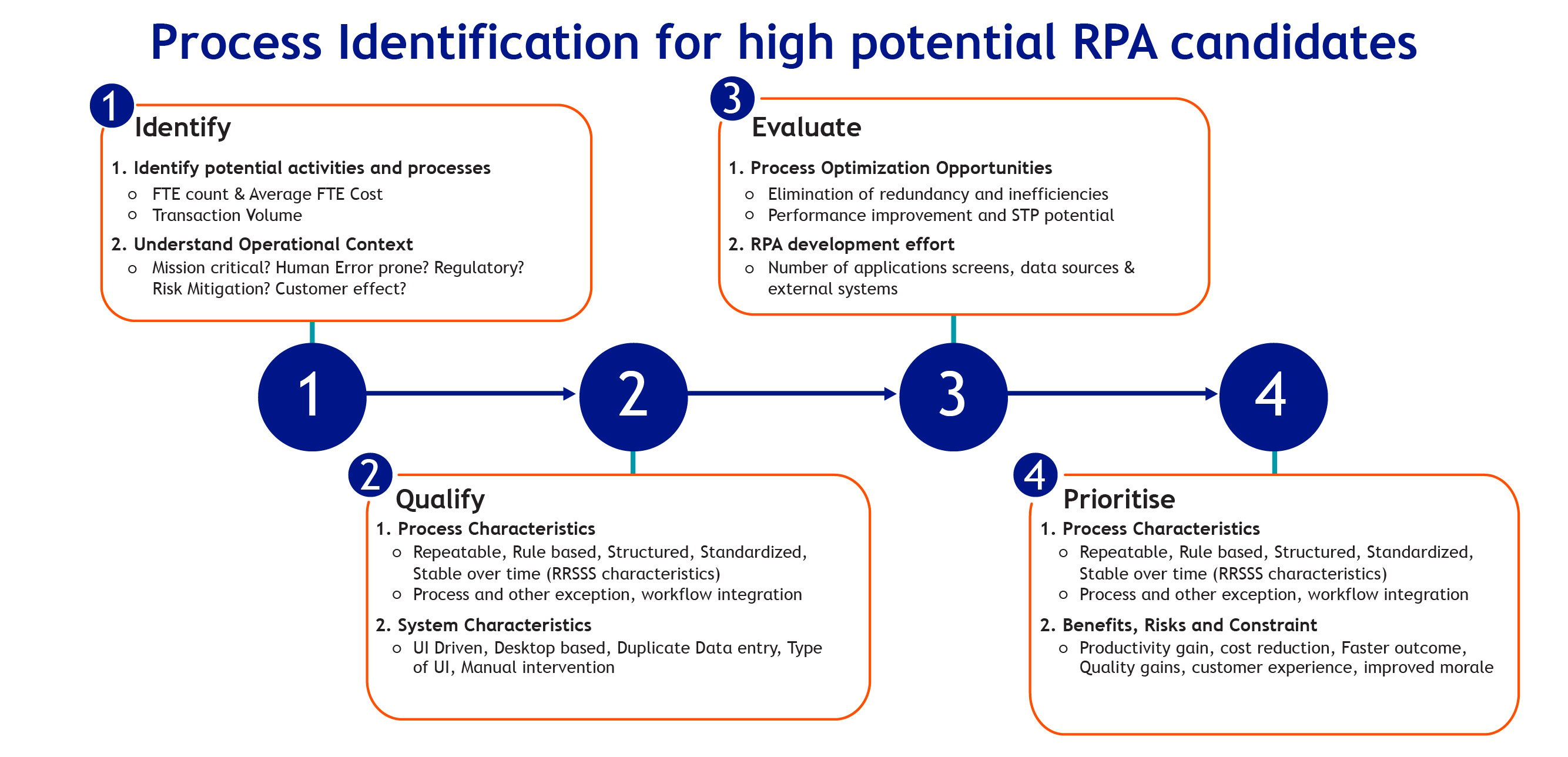 A team of experts can calculate what is the amount of development effort required to execute a process for development, the number of screens required to navigate, data inclusions, sources required, external systems to open, etc. Once the evaluation is done, it helps develop a matrix to identify and prioritize tasks for automation, based on the cost and complexity (six sigma methodology) involved.
For instance: if you have an invoice creation process. It has been the same for some time and it's not going to change drastically in the next two to three years. It could be a stable process to pick up for RPA.
Let us now understand the in-depth utilization of RPA in Finance and HR domains:
Robotic Process Automation (RPA) in Finance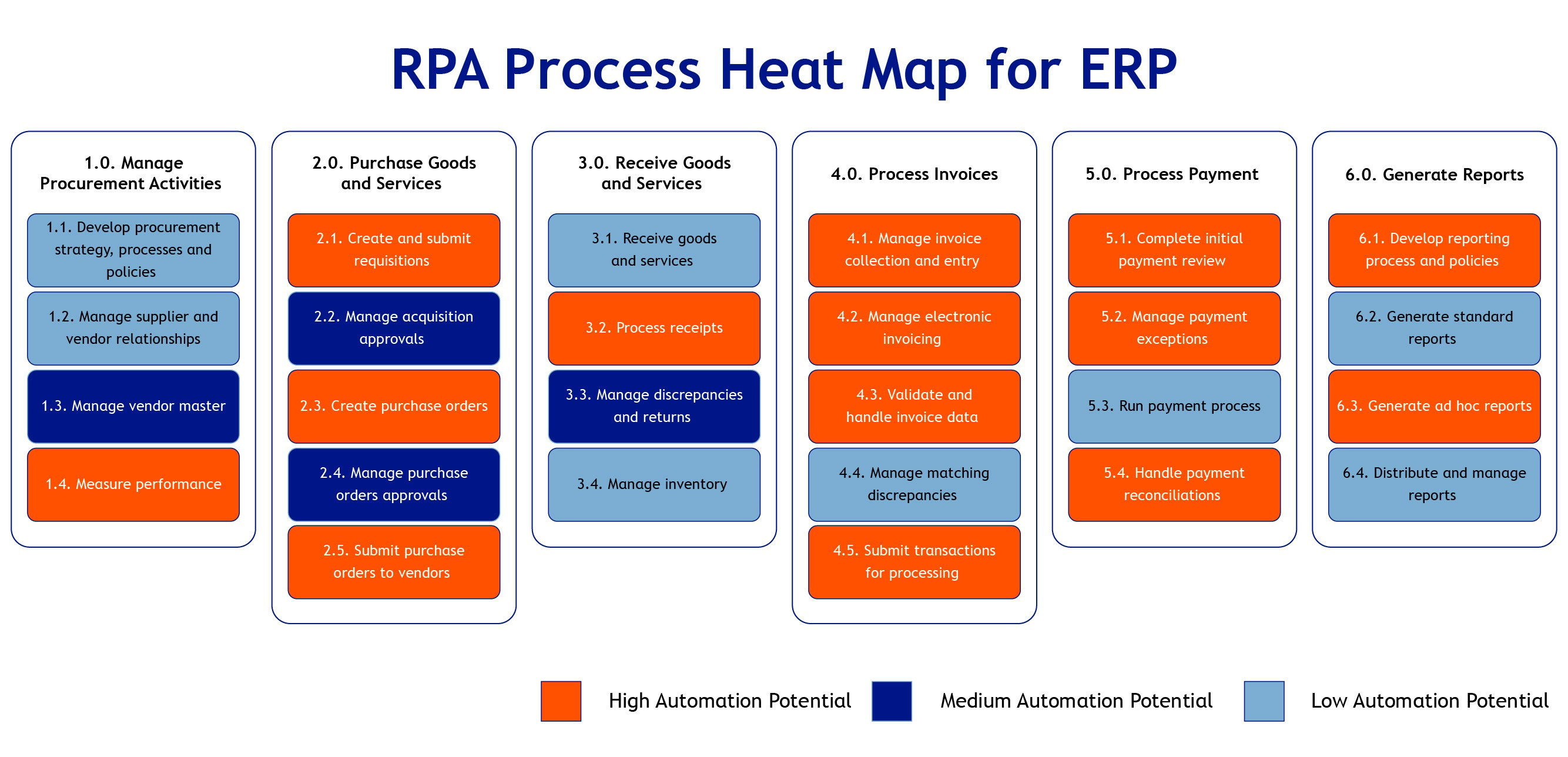 Finance is the co-driver of all business journeys, be they successful or unsuccessful. RPA in Finance helps financers automate their day-to-day jobs to get quick ROIs. Financial activities like releasing payments, releasing and updating the standard GL reports, matching invoices, etc. are all major candidates for automating bank reconciliation.
Reconciliations:
We've witnessed that bank reconciliation during closing is one of the major challenges for a business. They tend to take around a week every month to close their bank accounts and compare them with their GL records. With the help of bots, the requisite process can be automated for effortless and quick delivery. Thus, this is one of the major potential areas of RPA in the finance domain.
Record Journal Entries:
RPA in Finance can help companies by directly identifying and posting journals through emails whenever they receive this information from their suppliers or customers through emails or excel sheets or pdf files. RPA bots can read those files and update those entries into the organization's ERP systems by automatically attaching the support documentation.
Intercompany Accounting:
With RPA in Finance, bots can easily automate and reduce the workload on procurement supply chains, inter-company accounting wherein you're matching your entire company transactions, your cash settlements, intercompany transfers, cash settlements, and reconciliations in GL books, sub-ledgers, bank statements, etc. RPA Bots can help generate a standard MT940 format and then upload it back into the system. It reduces a lot of manual work for the end-users.
RPA in Finance can be utilized to easily match entries across systems using an OCR solution. It can validate that the header and invoices are correct as per the PO. It helps avoid unnecessary hatred towards the financiers.
Deep diving, financiers won't have to download the excel files themselves and generate reports into the ERP systems, amongst others. These are very valid and useful use cases for RPA in Finance.
There are various tasks included in the Finance domain like Record Journal Entries, Product Revenue Accounting, Perform Allocations, Intercompany Accounting, Payroll, Reconciliations, Consolidations, Period End Close, and Maintain Master Data Reporting that can be well sorted by an RPA solution.


Robotic Process Automation (RPA) in HR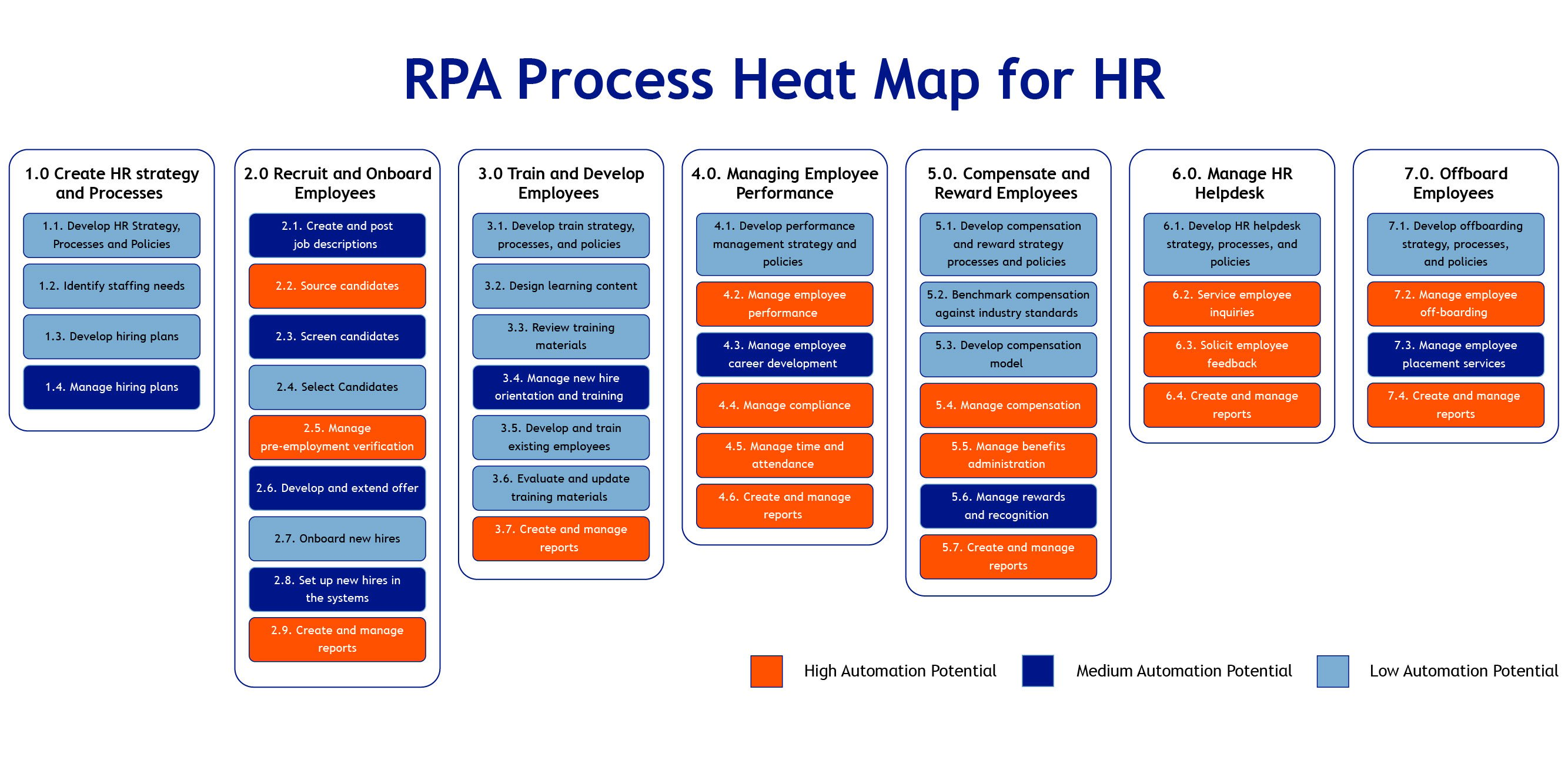 HR teams are required to continuously manage and upload employee information, run payrolls, rolling out offer letters. A lot of their time is also spent identifying candidates, searching their profiles, sending offer letters, employee onboarding, etc. Noticeably, an error in any of these processes could create a huge impact as they tend to affect employee experience. So, the margin of error has to be minimal and the compliances have to be well taken care of.
Recruit and Onboard Employees:
As a case in point, let's take the process of hiring. The hiring of candidates from different platforms like LinkedIn, etc. could be a process that can be automated with RPA in HR. RPA will enable bots to visit the platforms (let's say, LinkedIn), download the CVs, and upload the information to an organization's HCM System.
For employee verification, the documents, the passwords with employees' legal documents, their college certificates, etc., can be scanned and validated with the OCR functionality of an RPA solution. In traditional systems, a lot of human manpower goes into these tasks.
Managing Employee Performance:
Companies may employ RPA in HR with bots to map employee performance (which in itself is generally a yearly process). Intricacies like managing various compliances, time and attendance submissions, development of reports, etc. can be seamlessly and efficiently managed with their help.
Creating HR Strategy and Processes

:
Let's go one level deep. RPA in HR can also sort different sub-processes within the larger processes. For instance, if your employee has submitted a self-service request in your organization's HCM System, wherein he or she wants to cancel a leave or wants it approved. The RPA bot can read that email and directly update your system.
Compensate and Reward Employees:
Robotics-led processes can be utilized to easily automate employee compensation, benefits allocated, management of various awards, and their appropriate report development.
Similarly, RPA in HR can take care of an organization's repetitive processes like payrolls including taking care of salaries, ad-hoc payments and their processing, their validations, time tracking for leaves, etc. These are just a few examples of how RPA in HR can be a game-changer for any HR team.
Types of Automation

If you are still confused about the solution which would suit your business needs, here is a list of various kinds of Robotic Process Automations that can further be customized as per your exact requirements:
Attended Robotic Processes:
There are some cases wherein the end-users are working in tandem with the robots. So, when you say 'attended robot', it means a robot will do a certain activity, but will also await user input. For instance, if there is an invoice and it has the correct data, but there are validation issues concerning digital signature, before uploading it in the system. A user may validate it, and the bot takes care of the rest.
Hybrid Robotic Processes:
In some cases, a human is required only to initiate a process. For example, hiring an employee. Herein, a human can trigger the RPA by saying that a particular position is empty and requires hiring. With RPA in HR, the bot then takes over and sources potential candidates from different job portals, downloads candidate information, evaluates and even takes a decision on which candidate to hire. It is a hybrid process wherein a human initiate it and the bot finish the job unattended. This is hybrid automation.
Fully Automated Robotic Processes:
Then there are fully automated processes. For example, the invoice process. A supplier sends an invoice through an email. With RPA in Finance, a bot reads the email and scans the invoice. If it is incorrect, the bots reject it and send it back to the sender informing them that the data is incorrect. If the data is correct, it is sent to the ERP system, and data is uploaded to the system.
How

can

your

business

begin

its

journey of implementing

R

obotic

P

rocess

A

utomation

in

F

inance

AND HR

?

If you foresee adopting RPA in Finance or HR shortly, you can start with three to four processes. As it delivers in terms of return on investment, you can monitor its effectiveness within three to four weeks. After the discovery phase, you can pick up other processes. That's how you can start the RPA journey right here, right now.
Partnering with Mastek for your RPA processes will help you in the easy identification and implementation of RPA processes across your business fabric. With a host of solutions and their support options, as well as a proven roadmap, the organization ensures a seamless implementation and post-implementation experience for its clients across the globe.