Modern innovations, such as Robotics Process Automation (RPA), Cognitive Process Automation (CPA) and Artificial Intelligence (AI) allow businesses to accelerate their digital transformation journey and reap the rewards of increased customer engagement and improved worker productivity, faster.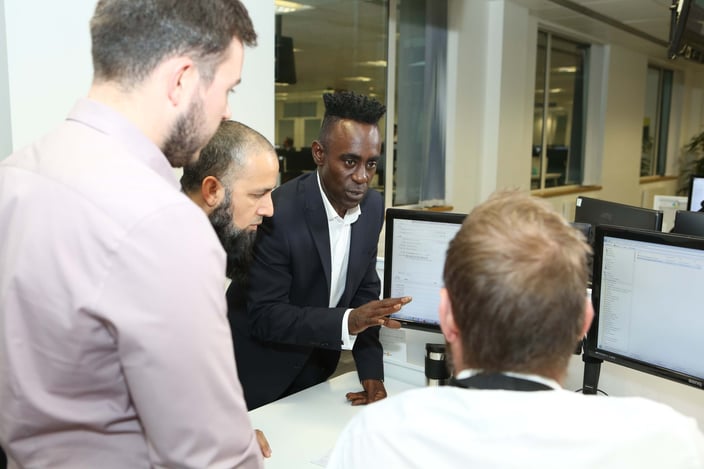 Forbes posits that Intelligent Automation increases execution capacity, minimises the overhead needed to get services and products to market and also optimises efficiency by facilitating better-informed decision-making and a focus on quality.
Before embarking on your Intelligent Automation strategy, here are some things you need to know.
Introducing a new software layer that mimics the human abilities to interact and make decisions
Despite large-scale investments in process automation solutions, such as Enterprise Resource Planning (ERP), most critical business processes still consist of data-driven manual tasks such as collecting, reviewing and inputting information. To carry out these repetitive, non-value-adding tasks, a large human workforce with certain cognitive abilities is required, which results in higher costs, stretched timelines and quality issues in operations.
Software robots and AI are now able to demonstrate these human cognitive abilities; this creates an opportunity to automate tasks that were impossible to automate using more traditional technologies.
The chart below illustrates the Intelligent Automation spectrum, from basic automation (human augmentation) to deploying AI and human-free processes.
Robotic Process Automation (RPA) is the first stage of automation
A robot can do the work of two to four full-time employees. They work 24 x 7 x 365, eliminate human errors and allow employee focus to shift to higher-value activities and innovation. RPA is a non-invasive solution that can be applied to automate front, mid and back office operations -- any processes that handle standardised, repetitive and high transactional data volumes. This is the ideal first-step automation solution; it is quick and low cost to develop and deploy in production. Every organisation has processes that are potential candidates for RPA.
Cognitive Process Automation (CPA) is the next stage of automation
Cognitive technologies can process unstructured data for predictive/prescriptive analytics, making the processes smart. This increases efficiency, and enhances decision-making, helping organisations stay competitive, grow customer loyalty and achieve compliance.
Cognitive automation leverages different algorithms and technology approaches, such as text analytics, machine learning, OCR, image processing and computer vision. Natural Language Processing (NLP) can interpret spoken or written communication and translate them into executable actions that will be carried out by the existing operational systems. For example, chat bots use cognitive technologies to address customer queries, helping organisations to handle high volumes quickly, which in turn brings greater customer satisfaction at lower cost.
Cognitive technologies take business process automation to the next level by deploying 'think and learn' behaviour, thereby increasing efficiency significantly. The use cases for cognitive computing are almost limitless: it could be identifying fraud patterns using machine learning; enabling medical professionals to stay abreast of the latest research and development across different medical disciplines; or helping businesses leap ahead of their competitors.
If you would like to find out more about how Mastek can help you embark on an Intelligent Automation journey, we'd love to talk to you. Please get in touch with us here.