We are sure you know the Cloud. Whether you have already deployed it or are planning one shortly, you are a growth-oriented visionary.
Cloud Migration requires an adept team of Cloud experts. They understand customer requirements and deliver solutions tailored to demand.
However, the story does not end there. Every business expects its Cloud Services to deliver optimized business processes with due diligence and agility for a prolonged period. This is only possible if you provide it with due care (like every other technology). This is where the Cloud Managed Services factor in!



Why In-House Maintenance Solutions do not seem to Work?


Cloud Migration is expensive and complex. Its maintenance thus also includes its own set of intricacies:
Your expectations from your Cloud resources might alter.

Constant updates are required.

Your in-house technical teams may not have the relevant expertise and experience.

Employing full-time experts might prove to be an expensive option.

Your team's focus shall be required on other tasks, including business progression.

Your in-house experts might not have the requisite software. You may be able to procure them, but that too would be at an additional cost.
Alternatively, you could choose to hire an Oracle Managed Services provider.
How can an Oracle Managed Services Provider help?
Flexibility, cost-savings, and efficiency are mostly the prime reasons Oracle Cloud solutions are sought. Your Oracle Cloud implementation partner shall provide you with the requisite solution. But, in due course, your Cloud Solution might require a pair of helping hands. Your Oracle Managed Services provider will help you out.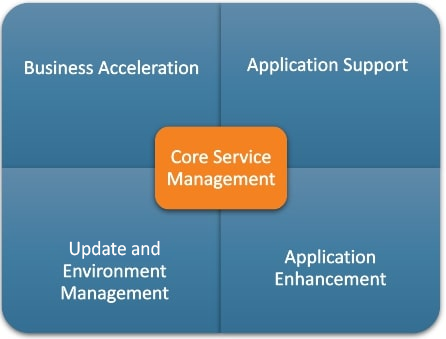 Oracle Managed Services Support includes:
Core Service Management:
It is a prerequisite service option for all cloud customers and can be scaled (commercially and feature-wise). With the provisions of a dedicated services manager and a 24X7 available support team, you will always have expert Oracle Cloud support whenever and wherever you might want. Moreover, generic assessment and timely reports will ensure that your solution runs in a spic and span condition. You can also opt for separate experts for each domain (Oracle ERP, Oracle  SCM, etc.) as well as timely review meetings. However, these are solely dependent on the requirements of the Cloud customer.
And, of course, you will be billed accordingly.

Application Support:
Application Support Services are the most important aspect of the Oracle managed services deck, yet they are optional. The services are delivered as per the ITIL 4 ITSM good practice framework:
-Incident Management – This includes effective, SLA-backed, management of interruptions to normal service operations.
Problem Management(optional) – Identification of the root cause of potential incidents.
-Request Fulfilment(optional) – Execution of pre-defined, pre-agreed routine systems management activities/ service requests.
-Event Management – Proactive monitoring of the deployed solution.
Application Enhancement:
It involves the structured and continual evolution of the client's applications. Application Enhancement includes elective or optional changes to the system, that might be identified by the client, by the
Oracle Managed Services provider,
or due to an Oracle recovery change. Herein the
Oracle Cloud support
also helps minimize the risk of changes during the Vendor Release Management cycle (mandatory Cloud updates).
Upgrades and Environment Management:
With impact assessment, regression testing, known-error log review, vendor liaison, and deployment of mandatory changes across supported environments, as options, it effectively manages Oracle release cycle and the underlying Oracle environments. Your Oracle Managed Services Provider shall maintain and publish an Environment Calendar to show the schedule for the deployments of Vendor Release; Application Enhancement releases; key business events (e.g., the period ends), and other activities which may impact the scheduling of system changes.
Business Improvement:
It includes
the deployment of tooling, knowledge, automation, and advisory services to help in value-based business decisions.
Looking for your Oracle Managed Services Provider? Read further.
How to Choose Your
Oracle Managed Services Provider
?
Choosing Oracle Cloud is a wise business decision, as it offers the widest horizon of services and options globally. But, maintaining it for optimized output is another ballgame altogether.
There might be several technical teams vouching for their Application Enhancement services. But you should choose a team that promises continuous support while delivering measurable business value.
Companies like Mastek, with a global team and experience, offer several customizable packages that shall ensure reductions in your Cloud maintenance budget and deliver in terms of measurable KPIs.
So, the best way is to list your requirements, research the market, and then choose an Oracle Cloud Managed Services provider that is well suited to you and your business demands.