If you're feeling overwhelmed by the need to respond to market dynamics with faster development cycles, then digital transformation could be your Goliath. It's not surprising then that 70 percent of digital transformation programmes fail. This could be because of a lack of a well thought out digital testing strategy.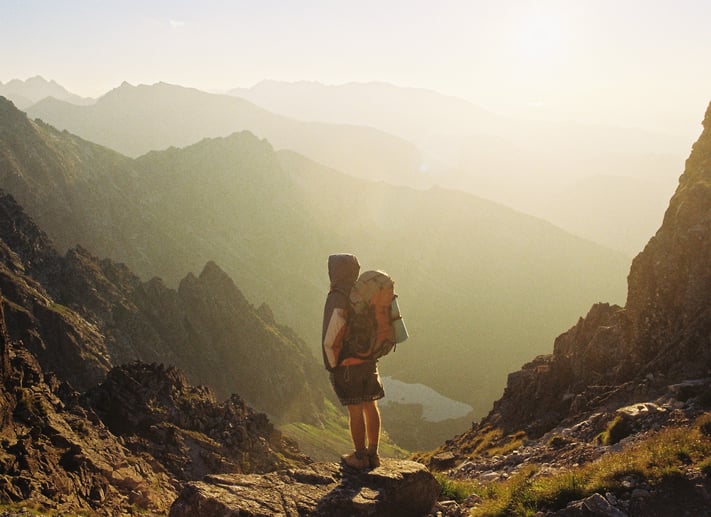 There's hope though, as like the biblical David who with a mere sling and pebble brought down the mighty Goliath, you can capitalise on your testing capabilities to achieve success on your digital transformation journey. Read on, to find out how.
Move to Digital Testing Processes
Any enterprise that implements digital solutions must deploy quicker development cycles using Agile or DevOps methodologies. They must also demonstrate innovativeness in adapting to evolving technology trends in SMAC (social, mobile, analytics and cloud) whilst being focused on delivering customer delight.
Moreover, customers today expect to access products and services from anywhere and on any device. As a result, traditional software testing functions must move their focus away from time-consuming manual processes, to the secure and automated testing requirements of the digital world. The Testing Processes diagram below details the shift in testing processes that the digital age needs.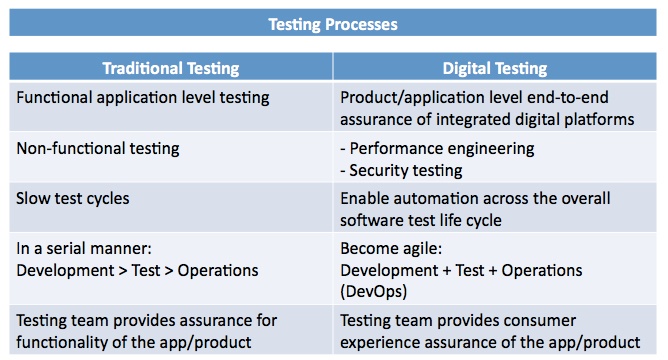 Overcome Testing Challenges
Pre-empting and addressing the Goliath of the digital transformation world is not as simple as one would expect. Testing challenges associated with the move to digital platforms are diverse and include:
True coverage of customer requirements
Tools to test SMAC technologies
Test case design
Identifying test data sets
Coverage – balance between proper test coverage, effort and time
Customer data privacy
Tester skills incorporating new SMAC technologies
Integration of diverse applications and platforms
Business assurance
Quicker test cycles to assist faster time-to-market
Integrating digital into legacy systems
Which is why quality assurance and testing teams must focus on the following key themes:
Measure Customer Experience and Journeys: Incorporate test methodologies and metrics that track customer experience parameters. Testing teams must be innovative in designing test cases that cover a wide variety of customer journeys for the application or product.
Business Assurance: In demonstrating the value of software testing to the business, testing teams must focus on optimising functional testing activities across channels. They must ensure that the product or application is omni-channel and consistent throughout.
Security: Ensuring that the customer's assets and personal data is secured, is a critical priority.
Automation: Robust automation frameworks should be set in place, to ensure quicker test cycles.
Digital Assurance Platform: The testing service organisation must have a robust and comprehensive digital assurance platform. This platform will help with creating a digital assurance strategy. The strategy will provide the right tools, methodologies, reusable assets and measurement metrics to help create a superior customer experience.
Enterprises that embark on digital transformation programmes should align the adoption of digital technologies with a clear digital assurance strategy. Want to find out how? Connect with us at info@mastek.com