The pressure to deliver digital transformation is gathering pace within government services. As a result, the ideal of using open-source products and frameworks to build user-centric services from scratch is going through intense scrutiny from agencies looking for frameworks that can accelerate their delivery.
Building new, user-centric solutions from the ground can be a costly and time-consuming process. There are a number of common business services that are regularly created independently to suit a supposedly unique need. Examples include identity, case management and workflow solutions.
Opening Up to Open Source
We are starting to see government agencies sharing their bespoke frameworks as open source across departments, so that other agencies can also benefit from their efforts.
In addition to this, there are low-code accelerators in the commercial market and open-source community. These have the potential to speed-up the delivery of transformational digital services in the public sector, making best use of the public purse.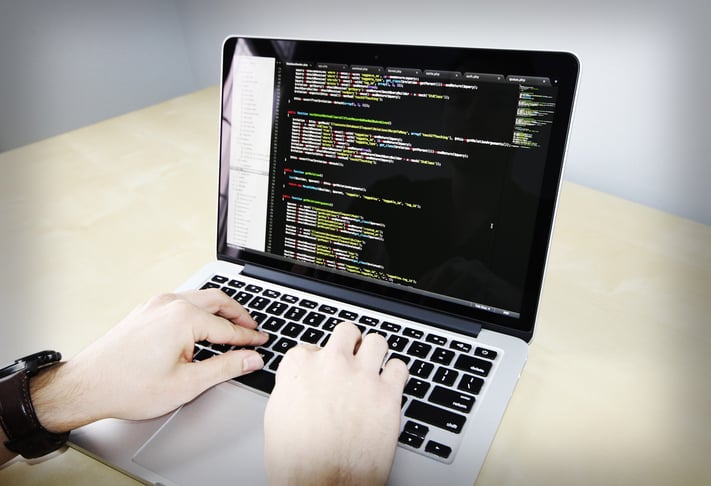 Frameworks for Flexibility
These accelerators are often not traditional COTS packages, but frameworks that provide specific capability. They come without the gloss of a commercial product and constraints of adopting their branding and look and feel.
Tools that provide core capability, but still deliver flexibility to build a customised user-centric design and process can help teams focus on the business problem and not the underlying technology.
CoSMiC - Accelerating Bespoke Development
Mastek have recently been recognised by Gartner1 in their Market Trends analysis on Case Management Software (Aug 2016) as an emerging player in the provisioning of case management solutions. Our differentiator is the CoSMiC case management platform, which provides key case management services to organisations wishing to accelerate the design and development of their own bespoke user-centric solutions.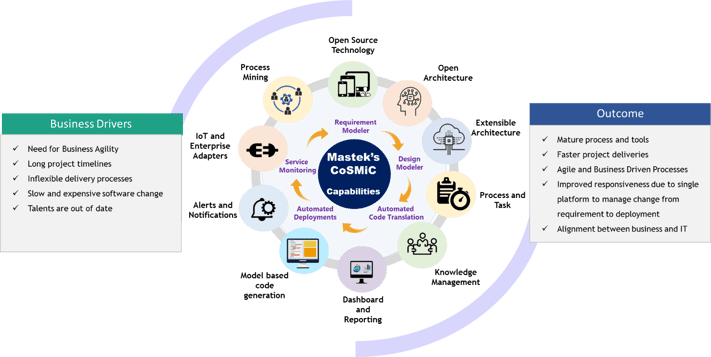 A low-code platform for solutions development, CoSMiC enables delivery of business outcomes at a fraction of the cost of a ground-up development or COTS customisation. It automates some commonly used components in public sector such as:
Task inbox
Adaptive workflows with workload management and escalation capabilities
Business activity monitoring
E-Forms
Collaboration spaces
Alerts and notifications
Additionally, CoSMiC allows for default implementation of patterns for self-service, digital enablement using lean user interfaces and exposing services as open API's. Along with this, it offers cloud-native deployments and ready-to-go service monitoring capability.
The open architecture and open standards adoption provides the ability to plug & play existing technical products/components. This helps organisations exploit existing investment in technology. Overall, CoSMiC reduces the time to value and helps jumpstart development by providing best in industry solution patterns and components.
1 Biscotti, Fabrizio and Hill Janelle. "Market Trends: Case Management Software, an $8 Billion Untapped Opportunity." Published: 10 August 2016, p.13; Gartner