It's interesting when the untraditional take on the very traditional retail sector keeps repeating itself with aplomb. Throughout 2016 we'v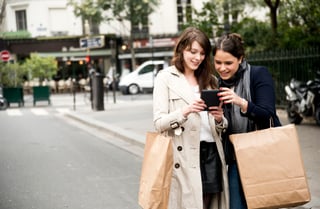 e been identifying and publishing key retail tech trends on our retail blog. We've observed several themes repeat themselves month on month. Nevertheless, the opportunity to gain competitive advantage through the use of trending technologies has catapulted this industry into the limelight.
Let's delve deeper into why certain technologies keep surfacing on the retail radar.
The Onus on Omnichannel
This is a capability that's no longer a 'nice to have'. Instead, ominchannel is now mainstream. Shoppers fully expect the flexibility to shop where they want, when they want and to receive their goods when they choose, at the most convenient location. Most retail supply chains simply weren't built to cope with these types of demands. Hence, it's no wonder that many retailers struggle with adapting network operations to meet such expectations.
Add to this imperative, the need for retailers to 'digitise' their businesses and the sector's struggles worsen. Mastek is innovating in this space, helping retailers to transition from Business Intelligence (BI) solutions built as data warehouses to realise the power of the intrinsic, usually hidden customer insight housed within the mass of data. We are enabling them understand how analytics can draw them closer to the customer - by extending the digital enterprise to dynamic in-store dashboards. These dashboards are capable of drilling down into data, helping retailers to better assist customers who may have purchased on the web, but are now seeking an update on instore delivery. Real-time peer store sales comparisons can be undertaken as healthy competition – all whilst sharing best practice and merchandising effectiveness.
The Rise of the Retail App
Between 21% and 50% of all web sales now originate through the use of a retailer-specific app. With global figures set to grow and grow, a mobile-first strategy remains a key focus. However, the reality in the UK is that just 23% of retailers currently have a transactional app. A number of Mastek's clients are included in this figure, but even those for whom a mobile app is already active are working with us to explore ways of enhancing and improving existing functionality.
What we're witnessing and indeed, helping develop, is a melding of transactional purchasing capabilities. These applications help garner insight into customer buying patterns, demographics and preferences – and with it, an increase in brand loyalty.
Connected Customer Expectations
The opinions of what has become known as Generation C or the Connected Customers have never been more stark and in demand. A recent, Infomentum report highlighted the plain truth behind a tech-savvy generation's expectations and needs from digital retail. 77% of respondents said that if they struggled to access a website, they would leave immediately, while 89% would discuss negative experiences on social media, and 89% would write a negative review online. 55% said they wouldn't bother to ask customer services for help. Despite this, 96% said they would share their positive experiences. When asked what the most important web features were for today's shoppers, 76% chose clear navigation, 60% speed/website load times and 51% effective search functions.
The statistics speak volumes about the habits of today's connected shoppers and their tolerance or lack of it for retailers who are not already responding to the digital challenge. At Mastek, we're assisting clients to expedite this important trend. While the trends may repeat month on month, new technological concepts will enable Mastek to help retailers use innovation as a positioning -- something that has become the life-blood of global retail.
Don't lose out on retail tech trends! Contact Pierson Broome at pierson.broome@mastek.com to find out how you can reap the benefits.