A New Year – and with it, as always, new challenges for the Retail sector. How should retailers invest hard-earned profits when it comes to technical roadmaps? What are the key retail technology trends emerging this year?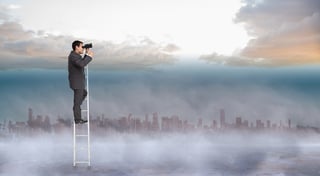 Each month, I'll be reviewing the consensus of themes and determining the Top Three trends emerging across the sector. To this, I'll add Mastek's view in an effort to help clients with making these important decisions. In this first round-up of 2016, let's take a look at the top three retail technology benchmarks we've seen in January, now that we've made it through to the end of the month.
Mobile, the Go-to Technology
This will be a year of disruptive payment innovations and developments. The thrust towards investments and developments in mobile-specific applications continues unabated. In terms of digital transformation and investment, the growth of e-Commerce based on the mobile phone format, as opposed to the tablet and/or computer-based devices continues apace. Not surprising, considering Forrester forecasts that by the end of 2016, 4.8 billion individuals worldwide will use a mobile phone and smartphone subscribers will equate to 46% of the global population. Additionally, the analyst firm predicts that over the course of the next twelve months, such devices will account for the purchase of goods worth US$142 billion in the U.S. and €86 billion in the European Union, 38% and 32% respectively of all online transactions. As retailers embark on making mobile-first a key focus, they must tap into that fully mobile customer market by deploying sophisticated yet friendly phone apps.
Omni-Channel Will Continue to Reign
While the term 'Omni-channel' may seem overhyped, the implications of failing to integrate disparate systems and provide a seamless, omni-channel customer experience can be detrimental. These shortcomings have shown up in sharp relief over the 2015 Black Friday and Christmas trading period where many retailers reported on-going shifts in purchase patterns. They faced challenges with handling returns including refunds and inventory repositioning, whilst having to maintain a seamless customer experience.
The fact remains that omni-channel is now an industry mainstay. It implies exceptional execution to ensure that customers experience a seamless customer experience As such, retailers must get a strong grip at integrating multiple sales and distribution channels, internal systems and architectures to better profit, literally, from separate and sometimes disjointed channels of fulfilment. They should also assess the impact that disparate channels can have on the overall supply chain metrics and fulfilment networks.
Data Analytics will Drive Decision-Making
Retailers are increasingly witnessing a shift towards the left, as they attempt to leverage the enormous volumes of data created as a result of the various processes. The shift can be witnessed in the move from the initial business intelligence phase of historic data storage in an enterprise data warehouse, in favour of one of the four recognised phases of analytics evolution including descriptive, diagnostics, predictive and prescriptive – moving away from the 'what happened,' 'why did it happen,' and 'what could happen in the future' questions, to providing solutions to the 'what am I going to do about it' question.
The in-depth analysis of this data will create a profound impact on decisions that retailers can incorporate into retail supply chain processes and operations. You are no longer a purely reactive organisation. By utilising demand-led forecasting and fulfilment, overlaid with demand management techniques, you can improve forecast accuracy, better understand customer purchasing behaviour, optimise inventory and associated costs per channel, maintain superior customer service levels and ultimately, improve margins, revenues and growth.
For more on how you can embrace these trends…
Get in touch with me at pierson.broome@mastek.com Here at Mastek, we've been enabling retailers to address challenges and capitalise on opportunities, not just from a technical viewpoint, but more importantly, from a business perspective. Whether it is working to integrate newer mobile payment options, to seamlessly integrating it into the omni-channel experience backed by a data-driven experience, our dedicated Retail team always maintain the end goal of improved corporate financial performance top of mind.
References:
Thomas Husson et al. Nov 9, 2015. Predictions 2016: The Mobile Revolution Accelerates,