It sets the winners apart from the losers. Yes, test automation can revive flagging digital transformation projects and give new ones a head start. In fact, it is essential for enterprises to succeed in the digital age.
As digital technologies gain momentum, quality assurance teams must adopt mature test automation practices. This will help them reduce manual efforts, provide faster feedback and minimise the time to market for products and services.
Continuous Testing, a Critical Success Factor
In order to optimise performance, organisations are increasingly focusing on mature application development practices and DevOps implementations. To support this, test execution turnarounds must be faster, and issues, if any should be identified quickly.
The future success of digital transformation depends on continuous testing for which test automation is imperative and serves as a strategic business enabler. In fact, Gartner states that "by 2020, agile and DevOps initiatives will cause at least 75% of enterprises to implement test automation."
Mitigate the Risk of Failure
Digital transformation projects involve a higher risk of failure when implemented without a well-defined test automation strategy. This is because manual testing cannot sufficiently address the varied requirements of diverse web browsers, devices, operating systems, screen resolutions and dynamic systems. This is where test automation comes to the rescue by mitigating human error that can occur from repetitive testing of complex workflows.
Early Issue Identification - Agile and DevOps
In the new age of Agile and DevOps, test automation helps teams identify and resolve issues early on in the lifecycle, thereby enabling enterprises to add value much faster. A lack of a well-defined digital quality assurance strategy coupled with test automation can be a barrier to digital transformation success.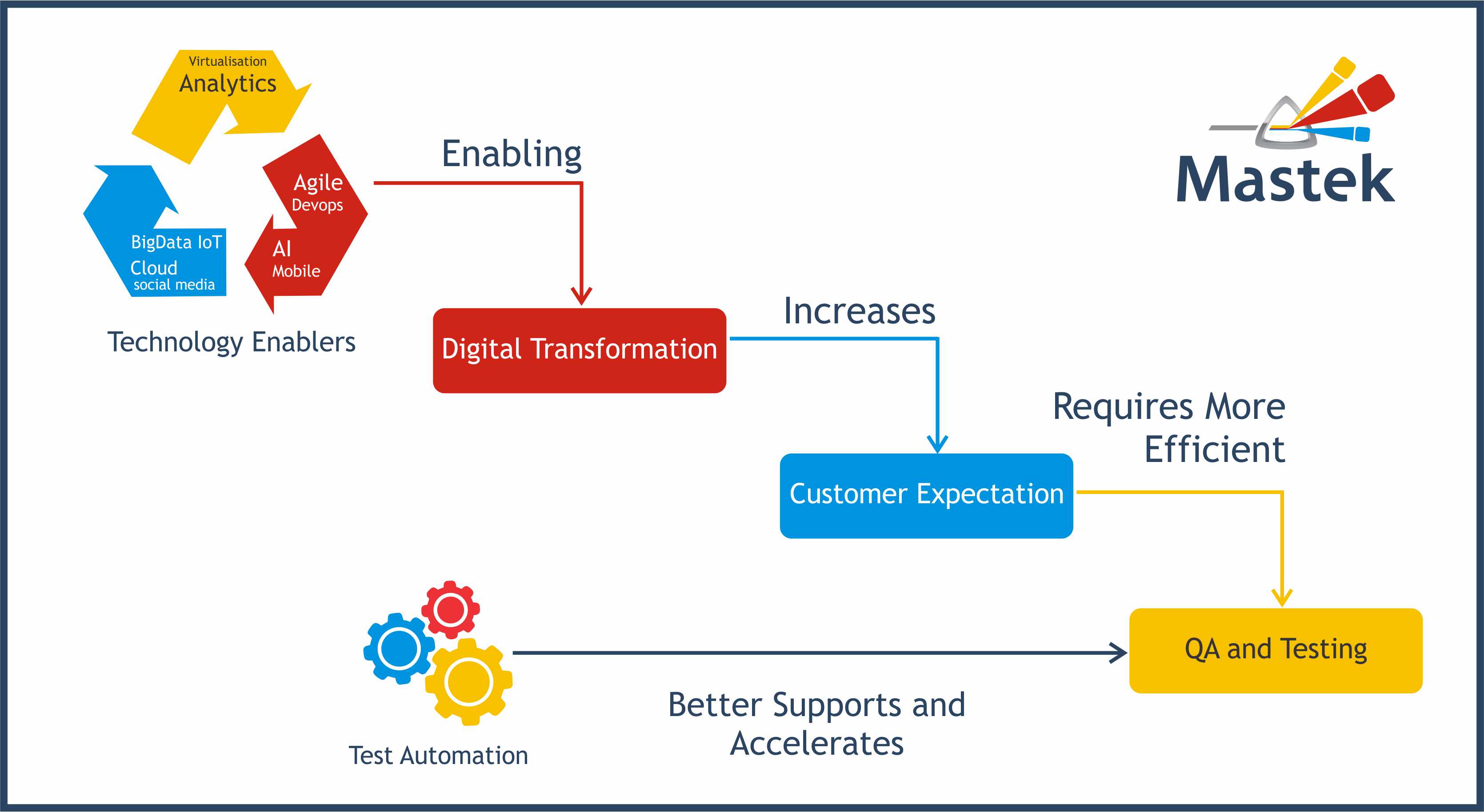 Deploying smarter test automation offers the following benefits: 
Improved efficiency and time savings 
Early identification of defects
Faster responsiveness to changing business demands 
Improved accuracy in identifying defects 
Quicker time to market 
Superior customer experience
Digital driven software development requires products to be launched rapidly and relentlessly without comprise on quality. The ramifications of failing to adopt test automation are clear – loss of business opportunities owing to longer time to market.
Quality at speed necessitates changes in test strategy and adoption of test automation right at the start. It involves implementing BDD test automation practices that help business users and QA teams to adopt a true shift left attitude and commence test activities from day one.
While test automation has distinct advantages, it requires careful planning supported by the right skillset to reap the desired ROI. According to the World Quality Report 2017-18, 'not having the right automation testing process or method' and a 'lack of skilled and experience test automation resources' are key blockers to achieving the desired level of test automation.
Test automation is no longer a business case topic. Rather, it is mandatory for enterprises keen to manage mounting test volumes and reap returns on digital transformation initiatives.