Increasingly, the continuing health and wealth of organisations in the retail space is reliant on big data. There is a pressing need to not just analyse the information, but to appropriately leverage the wealth of business intelligence in order to manage customer expectations. This can be done by effectively extracting value from the information available and transforming this big data into big value.
Unfortunately, even at large retailers, the values created to attribute and identify meaningful information upon which KPIs (key performance indicators) are based, are often overlooked. Measuring end-to-end performance across the retailers supply chain is quite a challenge in itself. Converting this horizontal approach into a vertically-aligned, tactical operation seems even more unattainable.
Don't Drown in Data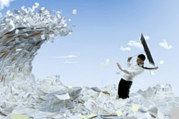 Transforming business intelligence data into insight is a sure-fire way of leveraging the company's investment in consolidating information into an enterprise data warehouse (EDW). It also provides the ability to record and store months and years of careful thought of what to record and store. The sad reality is that too many organisations attempt to measure anything and everything. By doing this, they end up missing the point about focussing on the 'K' in KPI. Inevitably, these retailers end up drowning in a flood of irrelevant data, instead of concentrating on useful information.
Catch up with Changing Times
Quite often, customers must deploy new corporate strategies or follow new trends, such as provide responses to changing market conditions or implement new technologies. These changes necessitate a re-engineering of reporting formats that have been in use for many years now. While this presents numerous challenges, it also opens up massive opportunities.
Staid, grid-based reports containing endless rows and columns can often contribute to the 'flood' of incomprehensible information. Ironically, the very people in the retail world including super-busy front-line store managers, for whom such reports were originally created, find themselves confronted by the 'can't see the wood for the trees' syndrome.
Focus on What Really Matters
Presentation and information articulation technologies have today evolved intonew and exciting mediums compared to those that preceded them. These technologies allow over-burdened front-line managers to improve the customer experience by helping them concentrate on important issues. This implies proactivity in ensuring that products are in stock and regularly replenished.
Wow with Visual Analytics
Capitalise on the power of visual analytics tools with graphically compelling, interactive dashboards and drill-down menus. These self-service tools speed up data analysis by presenting information in an easy-to-comprehend format – placing the power of decision-making in your hands.
Generation Y, also known as millennials is the generation that was born between 1980 and 2000. These individuals grew up in a vibrant, always-on, gamified environment, and are the next generation of business leaders. Interestingly, the dynamic visualisations offered by todays' BI tools better suits the millennial's natural way of working and should serve to enhance their productivity.
Dynamic representation of information is promising indeed, and can improve numerous aspects of reporting. More importantly, it allows retailers to focus on the 'key' element within the 'key performance indicator.' This understanding that visual articulation has to be customised for users who are naturally attuned to consuming information in a radically different format provides Mastek with the opportunity to help retailers in new and exciting ways. It is up to us to develop such evangelisation tools, which we currently do as part of our partnership with Qlik, the leading business intelligence and data visualisation provider. Through our alliance with Qlik, we can offer customers a platform they can use to exploit the power of information representation, by focussing on metrics which really matter to their organisation.
Are you frustrated trying to gain insight from yourdata? Capitalise on the power of information to youradvantage by getting in touch with Pierson Broome – Senior Retail Consultant at

pierson.broome@mastek.com