What are Smart Contracts?
Almost all prominent blockchain platforms now extend their capabilities in the form of smart contracts. A general definition of a smart contract is a computer programme that can automatically execute the terms of a contract. They extend the utility of blockchains from simply keeping a record of financial transaction entries to automatically implementing terms of multiparty agreements.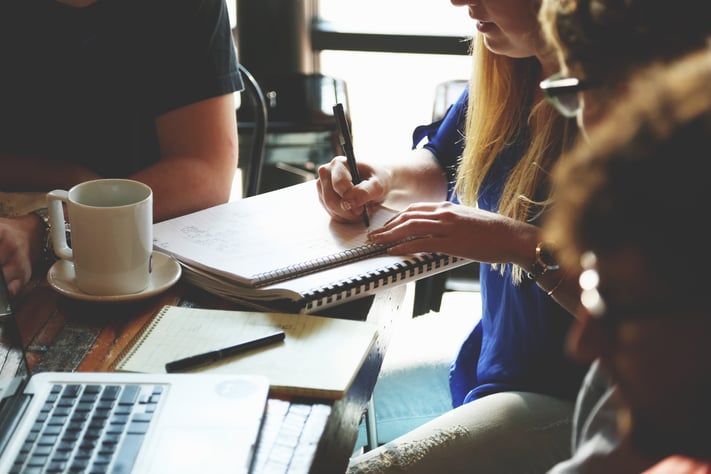 Self-executing Systems
Blockchain-based smart contracts are self-executing. They can solve the problems of counterparty trust in the sense that they automatically implement the terms of an agreement between parties on pre-set logic without the need for intermediaries. They are executed by a computer network that uses consensus protocols to agree upon the sequence of actions resulting from the contracts' code.
Coded contracts introduce efficiency of automatically generating contracts based on mutually agreed-upon patterns and syntax amongst counter parties. This is a major overhaul from how things are currently done i.e. manual documentation. Prior to blockchain, for an agreement of this type, parties would have had to maintain separate databases. Blockchain however, allows the shared database to have self-executing smart contracts where all participants can validate the outcome instantly without requiring an intermediary.
Best-Fit Scenarios
A good fit for blockchain enabled smart contracts could be a scenario where frequent transactions happen between a network of participants and manual mechanical tasks are performed repetitively for each transaction. Smart contracts are particularly well suited for the permissioned/private blockchain network. For the financial and securities sectors, such a code-based compliance would save a lot of time and money. Syndicated loans are a $4 trillion plus market that still run primarily on faxes, emails and Excel spread sheets. It can definitely see improvement with this technology.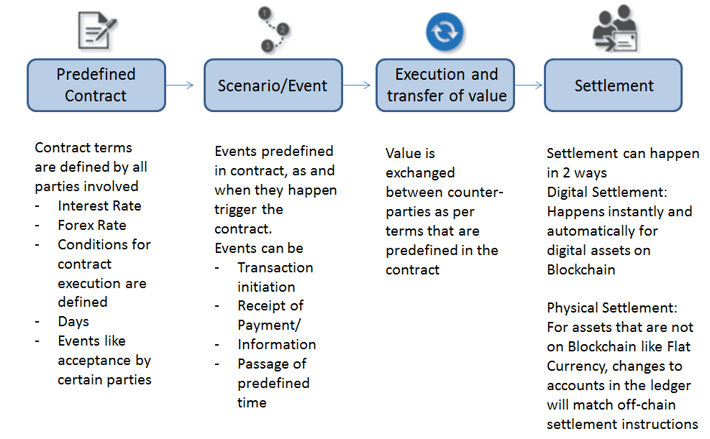 Benefits
Blockchain based smart contracts offer many benefits for a wide range of applications.
Decentralised process of execution eliminates the risk of manipulation, since execution is managed automatically by the whole network, rather than an individual party.
Smart contracts use software code to automate tasks that would otherwise be accomplished through manual means. Hence, they increase the speed of business processes and are less prone to manual error.
Fewer/Zero intermediaries
Smart contracts reduce or in some cases can completely eliminate reliance on third-party intermediaries that provide 'trust' services such as escrow between counterparties.
Less human intervention results in reduced costs.
Smart contracts, through their lower costs for ensuring reliable transactions, enable new kinds of businesses like automated access to vehicles and storage units. This can be in conjunction with other emerging IT trends like IoT and Deep learning.
Blockchain Smart Contract Use cases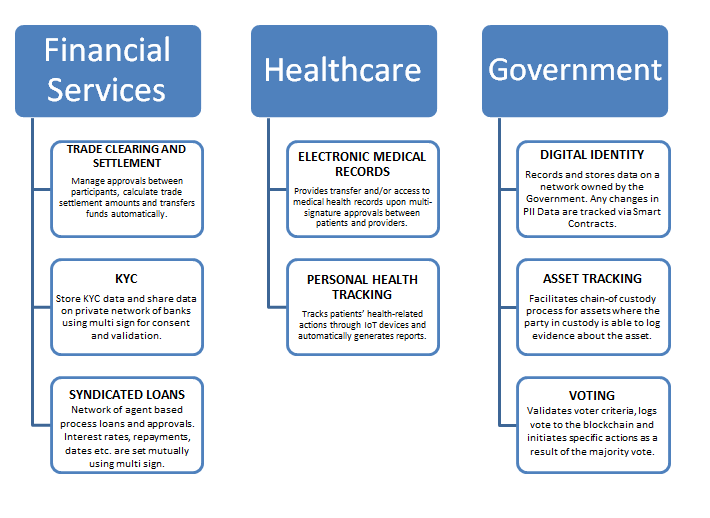 Mastek's KYC Proof of Concept
Mastek developed a proof of concept around the 'KYC for Banks' use case with blockchain and smart contract. Know Your Customer (KYC) is an expensive element of on-boarding a new client and each financial institution must create their own KYC. This means that banks/companies have a high cost of customer acquisition, and for customers it means a painful process to go through every time a new account is opened with a new bank.
Blockchains remove the need to trust a third party by trusting the network-agreed dataset. Smart contracts assure that whenever details like the address is changed, the customer needs to resubmit the proof for it to be acceptable again by the participating banks/companies. Mastek successfully developed this PoC and tested it on a private network.
As exciting as all of this may sound, this is just the beginning for this technology. On the technology front, certain advances will only broaden the applications. On the business side, businesses will find out more uses for smart contracts and newer models will begin to emerge.
Start-ups have already begun pairing it with IoT devices to provide access via smart locks. This is the right time for business leaders to examine this technology. Blockchain and smart contracts represent a new model of computing, development and integration, and it is of paramount importance to understand these newer protocols when evaluating these applications for the enterprise.