It's regrettable, isn't it? The second junior doctors strike today. Yet, it is a manifestation of balancing increased demand against an NHS that faces a £22bn savings in efficiency by 2020. Successive governments have made pledges within their manifestos to protect the NHS. They h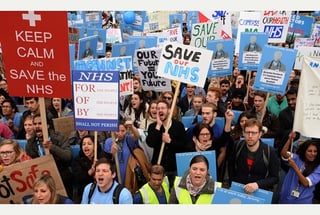 ave even assured increasing funding, at a time when other government departments have experienced significant cuts. It is in the interest of both sides to reach a compromise -- for government, doing so will reassure citizens that 'the NHS is safe in my hands,' and for doctors, it will ensure they can continue providing safe and sustainable care at weekends.
Care Considerations
The strike hits out at the very premise upon which the NHS was created - the ideal that good healthcare should be available to all, regardless of wealth. The rising impact of long term health conditions where people live longer (but don't proportionately retire later) brews the perfect storm over increased demand with less money being generated through taxation. Compare this year's health budget of £116.4bn (£101.3bn in England) against the £437m (£15bn in today's value) upon which the NHS was founded in 1948 and you can see how much money has been invested already. It also calls into question whether conditions or situations over which patients have some control in managing themselves should be paid for out of the public purse. For instance, should a patient presenting on a Saturday evening having consumed too much alcohol be paid for by the tax payer?
Fortunately, something can be done to return more money to the NHS, which can then be redeployed into direct patient care. Redesigning of the care process is essential and technology plays a big role.
Opening Up to Open Source
Take the example of Mastek's work with an NHS department, the HSCIC (Health and Social Care Information Centre). We collaborated with the HSCIC to re-platform and enhance Identity and Access Management, which controls access to all clinical systems across the NHS. This new system has replaced relatively expensive products with open source technologies, reduced card processing time by 80% and enabled a fourfold increase in smartcard issuance speed. The result, clinicians can spend more productive time with patients without being restricted by technology.
Check out the infographic below to know more about how the NHS is benefitting from engaging with Mastek.
Get in touch with Dominic Carter, Mastek's Head of Healthcare at dominic.carter@mastek.com to find out how we can deploy technology to save healthcare costs.