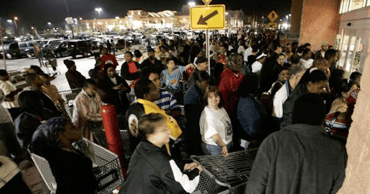 Like most fads crossing over from the US, Black Friday has made its way across the Atlantic and onto European shores. This US shopping phenomenon, which falls on the Friday after the Thanksgiving holiday is devoted to firing the metaphorical starting pistol for the retail industry's busiest trading period of the year. Despite the absence of a formal holiday, this bargain hunting break has been adopted by UK retailers for around decade now.
Even as D-day looms large, some are still debating the pros and cons of participating in the upcoming discount day bonanza – concerns include cannibalisation of Christmas sales, lower margins and the like. Yet, others like Amazon have already made a head start in this direction. Three weeks in advance of the shopping frenzy, the online retailer launched pre-Black Friday offers as part of its lightening deals. A shopper's delight that works wonders for a retailer's revenues, Black Friday can also turn into a retailer's nightmare if you are unprepared for the onslaught of shoppers on the lookout for a good deal.
Be Prepared with Retail BI
It's for occasions like these that retailers must gain customer insights using business intelligence (BI) to achieve the competitive advantage. Whilst the tactics behind creating an event based around a spending frenzy,which injects an unnatural forecasting spike in the demand forecast is understandable, the implications of failure can be profound.
Your carefully-recorded retail BI data collated over weeks, months and years can go to waste unless you harness and transform the analytics gained into actionable insight. This includes achieving a deep understanding into the buying habits of customers, frequency of purchase, location and catalysts.
Use Customer Insight to Achieve Customer Delight
The power of retail analytics makes it easy to target promotional and campaign events to increase consumer spending. The operational underpinnings of the supply chain process can be better served by using detailed and accurate forecasting statistics that drive optimised inventory levels through better replenishment. This in turn guarantees improved on-shelf and/or standard availability, fewer lost sales and enhanced customer service.
There is also the omnichannel and operational infrastructure aspects that retailers must consider in order to ensure that customer service doesn't suffer. Click here to find out how Mastek is empowering UK retailers with the power of data.
Connect with us at info@mastek.com to avoid a bleak, Black Friday outlook.