As Jeff Bezos rightly said, "If we can keep our competitors focused on us while we stay focused on the customer, ultimately we'll turn out all right." An isolated, unhappy customer experience can undo a brand reputation that may have taken years to build. Whether it is online, mobile or offline, digital technology is a key factor in creating a cohesive customer experience.
Enter IT systems, which are pivotal for retailers to enhane the customer's retail experience. Yet, retailers face numerous challenges with software systems including:
Downtime to peripheral devices leading to revenue loss, which necessitates accuracy in testing
Criticality of reliable Point of Sale (PoS) solutions, whether physical, in-store devices or ecommerce online sales and checkout facilities. As also, behind-the-scene store operation systems which handle merchandising, fulfilment and stock optimisation processes
Ensuring that websites are scalable, reliable, performant and accurate
Maintaining website and POS device security
The ability to scale retail operations across multiple SKUs, categories, geographic regions, as well as omnichannel fulfilment options
Promotions and campaign management tied to customer-specific, personalised deals, often set against a backdrop of similar competitive activity and the need to react rapidly
The global nature of businesses necessitating anytime, anywhere availability
In order to meet these challenges, retail application systems must be accurately tested for functionality, performance, security and usability.
Need for Seismic Shifts in Testing Approaches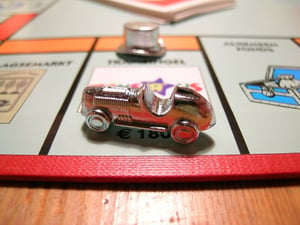 By taking advantage of the shift-left approach to testing, retailers can retain the competitive advantage whilst negating potential revenue losses caused by poor software design and execution. When implementing traditional software development projects, the project requirements are planned at the left side of the plan, and delivery and testing requirements are at the right side of the plan (i.e. towards the end of the project). While agile methodologies strive to bring customers closer to development teams and involved as 'product owners', traditional methodologies have larger delivery and feedback cycles where customers (users) are involved only at the start and at the end of the project.
Better to be Safe than Sorry
In stark contrast to traditional testing approaches, shift-left testing detects and prevents defects early on in the development cycle of the retail application. Research attests to the fact that defects are simpler and cost-effective to correct during the initial phase instead of later on in the project. It has been proven that up to 64 per cent of defects are introduced in the requirements, architecture, and design phases (Ref. Fig. 1). If identified and fixed in these respective phases, the cost is considerably lower than when addressing them in later phases of the project – which inevitably increases as we move to right hand side of the project.
Moreover, defects detected following the production release can have catastrophic consequences. Such as system downtime, the potential for a loss of customers, poor end user customer service feedback, data loss and its impact upon future decision-making capabilities (e.g. forecast accuracy), security lapses and an overrun in resource, inventory holding and associated store operations, logistics and warehouse handling costs.
Fig 1: Cost of change versus timelines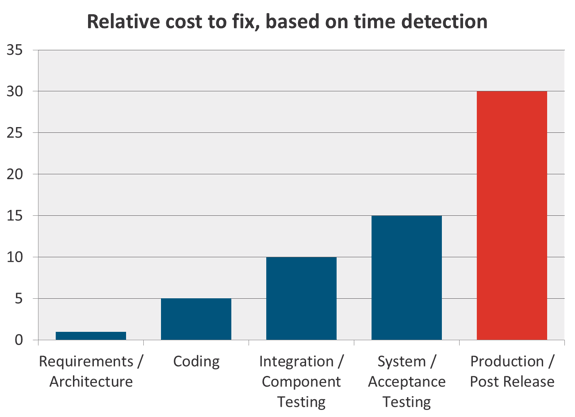 Source: National Institute of Standards and Technology (NIST)
Deliver Speed to Value
The fact is that businesses experience extensive delays during the design and development phases of the application. This in turn puts pressure on the business to go live with or without minimal change to the originally planned dates. As a consequence, testing phases are squeezed owing to pressure from the business to launch resulting in potential defects in the UAT and live environments.
In the process, integrated retail systems which rely upon the free flow of timely, consistent data throughout the Supply Chain can be negatively impacted, causing real damage to often wafer-thin margins. These mistakes can also irrevocably damage brand reputation. Yet, they can be easily avoided with the shift-left approach to testing and quality assurance, by involving testers right from the requirement phase through to automated testing and non-functional testing such as performance, security and usability.
Mastek is the preferred testing partner to several UK retailers. Our shift-left Retail Testing services are delivered by ISTQB and Agile-certified domain experts. We incorporate agile practices such as continuous integration and builds, key differentiator which enables us to deliver it right the first time and wow our customers. Additionally, we utilise ready-to-use automation and performance framework accelerators that help improve speed to market and reduce testing costs for retailers.
Avoid costly retail app testing errors. Connect with Sandeep Dongre – Head, Global Testing CoE at sandeep.dongre@mastek.com to discover how shift-left testing can help you do that and more.