We are living in the age of the customer and not the seller, where the customer controls the majority of the front end sales process. This is a paradigm shift in the process, as the seller is no longer conducting a sales process. Rather, he facilitates a buying process. By incorporating a digital technology strategy that includes a compelling customer relationship management plan, businesses can achieve insights that promote a robust sales strategy.
Engaging in the Information Age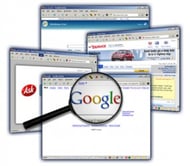 Moreover, the advance of internet searches, social networks and professional community's enable today's 'super' buyers to access virtually any information, easily compare options and validate them with a touch of the screen. Which is why, sales teams today must sell to this new breed of self-empowered, highly informed buyers. These buyers are resourceful when it comes to tracking down information about possible vendors and solutions. Put it simply, sourcing information about companies and products has become easier through internet searches, social networks and professional communities.
With the advent of the digital realm, we have witnessed a principle shift in the sales process where the modern sales professional will have to uses his digital presence to earn visibility and buyer credibility. Surveys have demonstrated that buyers today are already 57% of the way in the buying cycle before they reach out to sales. For complex purchases, that number is as high as 70%. Compare this to another study which demonstrates how the complexity and pressures in today's market have led to sales people spending only 22% of their time actually selling. So, even if a sales person closed all his deals, he has done so in less than a quarter of his time.
Get Higher Conversions with Social Selling
A conventional marketing campaign provides only a 3% conversion rate, compared to social selling which delivers a much higher conversion rate of 15%. This has led to an increased spend in sales training for social selling. 79 % of sales representatives now achieve their targets using social selling techniques, compared to only 15% of those who didn't use social selling to achieve their quota. As of now, social selling tops the lead to closure conversion rate amongst all prospecting methodologies.
A sales person is well aware that a cold call is only 3% effective (according to an IBM preference study) compared to reaching out via a LinkedIn in-mail, where recipients are likely to respond to those outreaches 67% of the time. The digital brand of the sales person should demonstrate subject matter expertise. Paying greater attention to signals being given off by buyers in the digital realm will provide an opportunity for the sales person to connect and engage the buyer/buying committee whilst amplifying their sphere of influence.
Make the Digital and Business Connection
Once you have a solid business strategy in place, you can improve sales productivity by identifying the right digital platforms to provide seamless customer service across various communication channels. Whether it is mobile wallets, geo-location tools or social media strategy, there are numerous ways to deliver a seamless customer relationship management experience. These can include:
Identifying a mobile strategy that offers multiple capabilities including browsing and buying of products, to interactions with customer service
Doing away with data silos by providing a 360 degree customer view that covers every interaction, whether it is by phone, online or over text
Delivering a social strategy customised to your goals, which offers customers direct access to you, and also to other customers if it forms part of your plans
Exploiting geo-location technology to personalise and deliver geo-aware customer interactions that serve up targeted offerings
Offering mobile wallet, mobile payment and cashless transaction systems that do away with transactional friction from the customer experience
Assessing the types of customer insights that can boost business, instead of being stuck with big data and analytics technologies
As no two customers have the same needs, desires and motivations for engaging with you, not all of them will contribute in the same way to your intended outcomes. Which is why, it makes sense to have a business-to-person model that accurately captures the relationships with customers. At Mastek, we have identified early on that customer relationship matters as a core principle in our growth journey. This is manifested in the fact that repeat business accounts for 80% of our revenue. We enable customers to develop an effective digital strategy that serves as a reference for their expected business outcomes. We do this with customer journey maps and data insight that helps identify the appropriate technology fit for existing architecture and strategy.
Want to revive stagnant customer relationships by embarking on new digital experiences? Get in touch with Ben Salins - CRM Technical Specialist at

ben.salins@mastek.com