Traditional psychology and the pursuit of customer value
I was reading a fascinating article in Harvard Business Review[i] about the 'Value Pyramid'; which was inspired by Maslow's Hierarchy of Needs. For those who aren't familiar with Maslow's Hierarchy of Needs, it's a psychological theory of human motivation which defines 5 categories of 'human need' including psychological, safety, social, esteem and self-actualisation; and the motivational impact on human behaviour when those needs are met.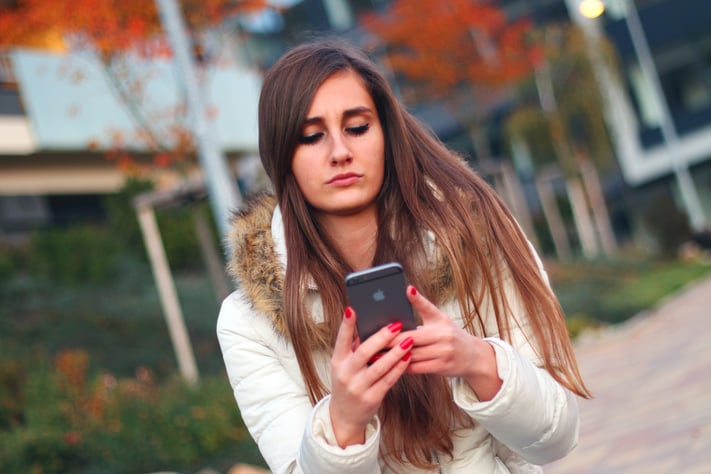 Maslow's theory was adopted by business talent/HR leaders to understand and better manage the needs of their employees since the 1970's and still features in Management Training today. The theory goes that by creating the means to meet the needs of the five categories of human needs, managers can create more motivated and engaged employees who will make a greater contribution to the business.
The Value Pyramid applies a similar theory for customers and their psychological relationship with products and services and draws out some interesting facts.
Testing the Value Pyramid hypotheses revealed interesting results
The Value Pyramid comprises 4 categories of around 30 'elements of value' (see diagram below). Bain & Co developed a couple of hypotheses to test their theory across 10,000 respondents. They mapped the customer view of 50 US based companies including Apple, Samsung, Toms and Amazon and found the following:
Hypothesis one: Companies who perform well across multiple 'elements of value' would have more loyal customers than the rest.
Result: Companies with higher scores across four or more 'elements of value' had, on average, 3 times the NPS of companies with just one high score, and 20 times the NPS of customers with none. (NPS being the commonly used 'Net Promoter Score').
Hypothesis two: Companies scoring well on multiple elements would grow revenue at a faster rate than others.
Result: Companies with high scores on four or more 'elements of value' had recent growth 4 times greater than that of companies with only one high score.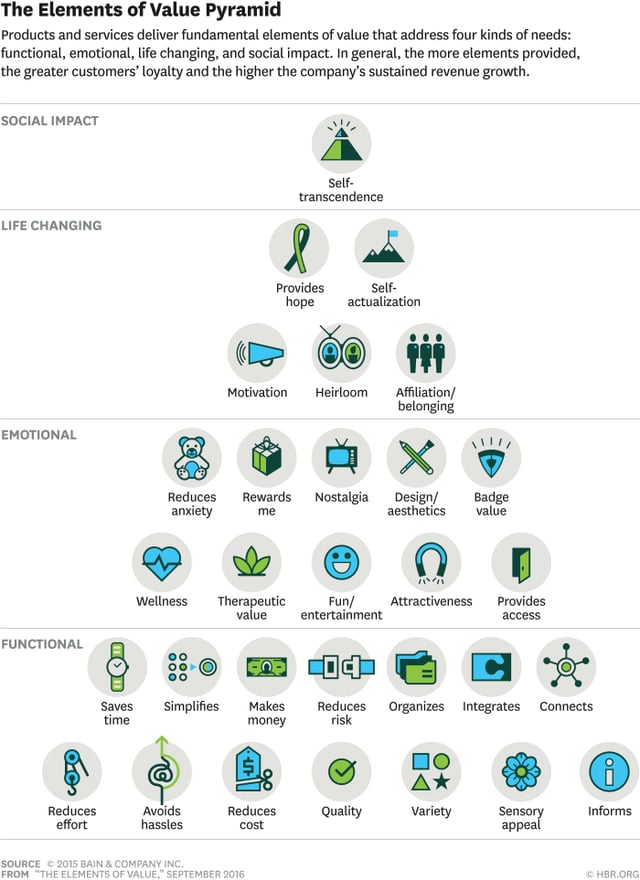 Customers perceive digital firms as offering more value
It was no surprise to me that digital businesses scored higher and addressed more 'elements' than bricks and mortar, that's why digital transformation continues to be the highest priority for business. The digital experience (when designed from a customer perspective and not a purely functional design perspective) is all about adding value through hassle-free 'always on' service, simplified interaction and time saving online processes.
Let's take a traditional Energy product such as Gas. On its own, the product satisfies the basic human need for warmth and fire, but apply the digital influence of IoT devices such as Nest or Hive and suddenly it scores against some unlikely elements such as 'reduces anxiety' (the device can act as a security monitor, reporting instantly on whether it senses motion in a customer's empty house). 'Wellness'.
It enables heating controls to be managed remotely, enabling customers to switch on heating on their way home. Reduces cost (how many times have we left the house without switching the heating off!). This digital approach applied to a basic utility such as Gas, transforms the customer experience through life-enhancing experiences and moves it way up the value scale…when implemented well!
Getting Digital right
Using 'Value' as a key driver for products and services enhancement isn't new, but sometimes businesses become victims of their own success and lose sight of what value means for a customer. Customers expect to be valued before they invest more in a business, which means thinking like a customer to deliver the product and/or service that meets their needs.
Take the music industry. As the digital landscape changed and brought about new ways of consuming music, the music industry failed to spot the value that customers perceived in digital alternatives consuming the product. They struggled to respond to the perceived value in subscribing to streaming a broad range of music rather than physically 'owning' individual CD's.
As a result, they missed out on the opportunities that the likes of Spotify and Napster exploited. Imagine plotting HMV and Spotify in the Value Pyramid, the scores would be so very different, especially in the functions and emotional categories.
Using the Value Pyramid alongside customer journey mapping would provide useful different lens for Product Innovation and Customer Experience initiatives. Building loyalty through customer centric thinking epitomizes the ethos of Digital that leads to tangible bottom line results.
At Mastek, we use our Innovation events to help our customers to understand how digital technologies can improve their propositions. If you would like us to include you in one of our sessions, please get in touch with us at info@mastek.com
[i] Almquist Eric et al. "The Elements of Value." Harvard Business Review, September 2016, https://hbr.org/2016/09/the-elements-of-value. Accessed 17 October 26.