Paper pushing at Whitehall has, interestingly, taken a turn for the better. Spurred on by the UK government's deficit-reduction programme, it has moved to the digital world, as civil servants increasingly collaborate, record and report online.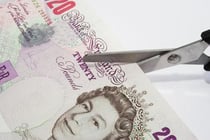 This sustained tightening in government spending has, in effect, improved ICT usage. ICT now, is not just a cost to be cut, but an area which can enable savings. It is integral in improving the ease and convenience for citizens and organisations to do business with the government whilst reducing waste due to fraud and error. Further, ICT has increased transparency within government departments and raised the level of competition amongst government suppliers - evident through the growing number of SME suppliers on the G-Cloud.
Transaction Transparency
New controls and mandated practices by the Cabinet office over the Whitehall ICT initiatives aim to increase transparency and competition, by breaking down the size and scope of contracts. There is also a broad focus on creating a single government customer. This customer is better informed and more intelligent than in the past. It has the ability to source the best deal from suppliers by consolidating its buying power.
SME Relationship Complexity
Although in practice there are limits on how far central controls can be enforced, it is fair to say that Whitehall ICT has been transformed by the new approach. However, the increased reliance on SMEs exemplifies a supplier ecosystem that is growing in complexity as a result of the reforms. A large number of potentially smaller providers are working alongside each other, rather than sub-contracting work from a single, prime contractor. This has created new governance challenges and risks, which government departments will need to address by building more capacity and skills.
Intelligent Customer Quotient

Additionally, the Cabinet Office may need to build capacity if it wishes to fulfil its goal of governing major supplier relationships from the centre. The need for an intelligent government customer has never been more critical. Yet, there are signs that it is already overstretched – co-ordination forums across departments should be strengthened and a consensus across political parties on the ICT approach beyond the 2015 elections will support supplier investment in the market.
Becoming an intelligent customer is not a simple process that can happen overnight, nor is it cost-free. Against this background, the central government market is clearly not an easy one for ICT suppliers. Nevertheless, this also means new opportunities for some suppliers, as well as the option for incumbents to collaborate and optimise services, as detailed in the three points below.
Supplier Proactivity
Suppliers should be proactive with solutions, offering innovative commercial models that could help government customers achieve tough targets that save costs. They also need to keep in mind the broader environment of centralisation, as the central government increasingly expects to be treated as a single customer.
Collaborative Approach
Traditional large players who dominated the market until now will need to demonstrate flexibility in terms of what portion of the contract size they secure. They will also have to be willing to partner with best-of-breed organisations that provide elements of a broader contract solution.
Agile Methodology
There is a growing trend with government departments towards the use of catalogues for service selection and procurement coupled with the disaggregation of complex projects. This inclination works well for blended supply chains with smaller niche suppliers. These niche players represent the best-of-breed approach to solutions, for instance, application development within the broader context of a transformational program forms part of a larger contract.
Suppliers such as Mastek epitomise a nimble, agile methodology that is built on our history of successful public sector project development. Working with primary partners, we've had the opportunity to build new partner arrangements across different government departments. This working relationship, has, in effect cemented our reputation as both the agile partner of choice, as well as a supplier who meets project deadlines on time and to budget, whilst bringing innovative technical solutions to operationally complex and strategically relevant government contracts. We continue to do this through our agile philosophy and range of offerings that neatly reflect the growing opportunities within government such as document and records management, eligibility programs, identity management, service accessibility, shared services and an adherence to a 'digital by default' mentality.